Monday June 21, 2021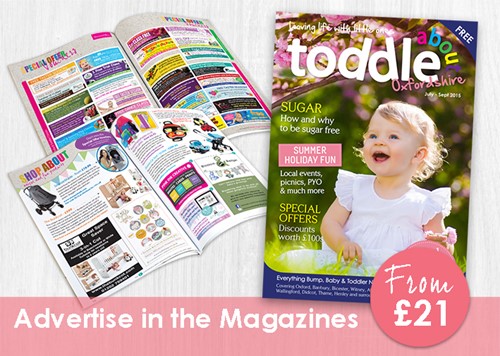 As a successful magazine that has been running for over 10 years, and with a business model that centres heavily around our advertising offering, we felt it would be great to put a blog together that businesses can benefit from when considering their advertising strategy.
It can be a daunting prospect, especially if you are new to marketing and you have a million and other things to do. One of your most important tasks though is to get your business name out there so that people are aware you exist, can start using your services, and your business can start to prosper and make a profit.
Toddle About is aimed at, and read by parents and carers of children aged 0 – 5 years old, in fact even before they are born! We are trusted by our audience which covers Northamptonshire, Warwickshire, Buckinghamshire, Oxfordshire and Suffolk and we will be expanding to all areas of the UK in time through our magazine franchise opportunity.
Our advertising blog aims to help businesses with their advertising decisions, helping you to decide when, where and how to advertise, through our greatest hints and tips that we ourselves have gleaned over the past decade. There isn't much we don't know about the subject and of course, if you can't find the answer you are looking for within our blog, you can always give us a call 01327 830171 or drop us an email advertise@toddleabout.co.uk and we will be more than happy to assist you in any way that we can.
You can subscribe to be notified about new Advertising Advice blog posts here and we will be announcing the posts on our Facebook page, so watch this space!