Go Back
Top Tips on How to Study When You Have Children
Being a mum is a full-time job, regardless of whether you're a single parent or have a partner right next to you. Being a university student isn't impossible while parenting your toddler – however, it is very demanding.
While many lecturers will be understanding, and many universities have programs and benefits for parents, you still need to put the work in personally. Let's talk about some tips on how you can study while having children and manage to pay enough attention to both parts of your life.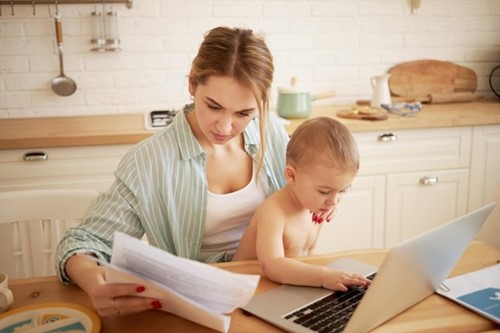 Prioritize your Time
When it comes to parenting, your toddler should be the priority, regardless of any exam or paper you may need to hand in. This may sound cruel at first glance, but it is your child which we are talking about. Learn how to create weekly schedules on Sunday nights for the following week.
Luckily, your toddler doesn't have full student obligations as of yet, so you don't have to drive them to and from school on a daily. Give yourself a few hours to study in the living room or your home office while your toddler is sleeping. You may not have time to spare for extracurriculars until they are a bit older, unfortunately, so learn how to prioritize what's important.
Have a Study Space Free of Distractions
Having a dedicated study space as a parent is a very flexible term. The best you can hope for is to have a nook for your study materials, books, and notebooks out of reach for your toddler. Odds are that your home will be a mess of toys, clothing, and cleaning supplies – it's important to separate your studying from that.
Always know where your university materials are and keep them in your vision and not in a drawer somewhere. Keep Top Writers Review close by for any academic papers or editing you may need to do on short notice. This will help you keep up with essays and projects even when you feel overwhelmed by your toddler. You are a student as well as a parent – there's no reason for one aspect of that persona to suffer due to improper personal organization.
Take Up Online Courses if Possible
Online university courses are a Godsend if you're a parent. Inquire with your university about the possibility of following some of your courses online because you have children. With COVID-19 in the rear view mirror, many universities have made it possible for students to attend classes and exams online.
While you still may have to leave home for administrative or examination purposes, this can ensure that your child never suffers any loneliness. In these instances, you can look for a nanny, have an older sibling or your partner watch the child, or look for a nearby day care.
Use Your Spare Time to Sleep
Finally, healthy sleep is an important element of a parent/student's daily schedule. However, with a toddler, sleep can often seem like an abstract thought. This is where power naps and 1-2-hour sleep comes into play.
Whenever you have an opportunity to do so, retreat to your bed or couch for a nap. You can join your toddler in napping together as well. Any free time you may have should go toward sleeping since you need the energy not only to raise your child but to study effectively.
Studying and Parenting in Parallel (Conclusion)
Becoming a parent while still in university, or choosing to go to university as a parent, makes you a superhero. You don't have to give up one or the other, but being both a parent and a student will take a toll on your private life. Regardless, with planning, you will be able to tend to your university obligations without any neglect toward your toddler, succeeding in both like a champ.
Authors Note: Elizabeth Baldridge is a professional writer, editor, and stay-at-home mom to two lovely girls. She is passionate about writing online content in a variety of industries, including personal development, marketing, and IT. Elizabeth uses her spare time to catch up on favourite blogs, journal about her life, and spend time with her children.