Read More Reviews
Review: Musical Animals - Achille the Crocodile, worth £29.95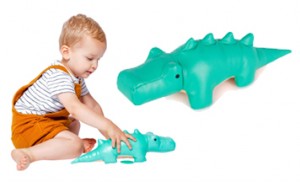 Achille Crocodile Review by VIP Club Member Victoria Chase
Product information
Meet Achille the Crocodile as part of the adorable and loveable collection of musical animals from BabyToLove. Each characterful music box is both easy and manageable to handle thanks to their super soft texture and rounded form. From each animal enjoy a different soothing melody, once each of the pull cords has been activated from underneath each of the animals. Achille the Crocodile a romantic reptile who plays for Elise, all of which help to stimulate curiosity and a baby's sensory development of vision, hearing and tactility.
Review
As soon as I opened the box and took Achille the musical crocodile out I had one very excited one year old tugging at my leg!
The crocodile is very well made, colourful and plays a lovely tune that makes my little boy stop what he is doing every time the string is pulled and reach up to take the crocodile from me. He is even learning to pull the string himself when he wants to hear the music, as the piece of leather at the bottom of the string means he can easily hold on himself.
The product is a contemporary take on the traditional music box and it even looks fantastic displayed in my son's bedroom. I really would not hesitate to purchase an Achille the musical crocodile for my child, or as a gift if I were attending another child's birthday party, as it is timeless and can be enjoyed by children of all ages. Achille is definitely a firm favourite in our house!
Available to buy here.