Read More Reviews
REVIEW: 3 Sprouts Back Seat Organiser – Bulldog Design

Review written by
Toddle About VIP Club
Member, Diane Boulanger. I'd been looking for a suitable organiser to go in the car for my little one for some time now and was very pleased to review this particular one. I have a 3 year old who likes to have his things within reach without it all being on his lap. The ideal organiser would have enough pouches for his juice bottle, a few small toys to keep him occupied and small snack pots. Plus it would have the added advantage of protecting the front seat from scuffs. I found the pouches to be too small for his juice bottles to fit into. The envelope size pocket behind the bulldog was just the right size for his small reading books. It is very easy to install with two straps around the front seat to which it is being attached. The organiser is very well made and has withstood a toddler's wellies without any damage. The design of child car seats and the length of a toddler's arms meant that we could not use the organiser as we'd intended and hoped to. It does protect the front seat though and we do like the bulldog image. I would recommend the product for older children who are able to reach the pockets and don't require or use bulky drinking bottles and cups.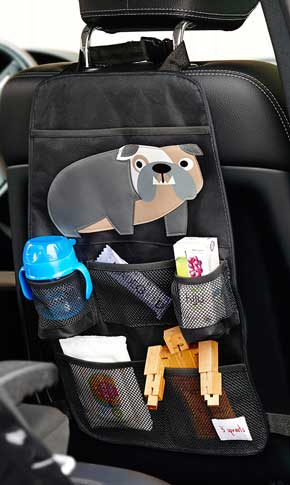 ---
3 Sprouts Back Seat Organiser
Introducing the all new Back Seat Organiser, which promises to keep your little one's travel essentials neat and tidy and within reach of their seat. Made from wipe easy nylon, parents will love how easy it is to keep clean, ensuring a clutter free car! The universal design will fit most cars and even better, it will act as a barrier to protect your seat from those little shoes. Available in four iconic 3 Sprouts designs, the soon to be must have travel essential features a Bulldog, Elephant, Hedgehog or Whale (Dimensions: 22" height x 13" width).
RRP:
£19.95  
Stockist:
www.spottygiraffe.com