Go Back
Working For Yourself: The Options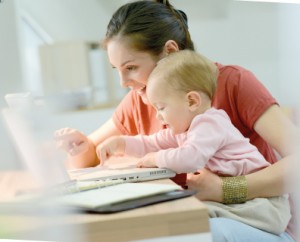 There are many pros and cons about working for yourself. If you want a job with the flexibility to work around your family, you will probably have considered working for yourself. There are three main models for being self-employed - here we explore the different models and the pros and cons of each.
# Option A - The Entrepreneur
You have a passion, an idea or a special talent. You spot a problem that you can solve and a gap in the market - and you decide to create a business to bring your dream to life. For most people, starting a new business is the first way they consider becoming self-employed. It is probably the most exciting and rewarding option available. It also carries the greatest risk. If you haven't run a business before, you will be venturing into the unknown. It will require a significant investment of time and probably money, and you will have a lot to learn – often by trial and error. At the beginning you will be the visionary, the manager, the worker, the bookkeeper and the cleaner. There's a lot to do, and if the business fails, it can be crushing.
If the business succeeds, however, there are few things that will be more rewarding in your life. Not only will you be your own boss, but you will be able to provide work opportunities for others and, if you structure the business correctly, you will have a sellable asset when you are ready to move on.
---
# Option B - The Franchisee
If the idea of running your own business excites you, but doing it on your own seems too risky and daunting, then buying a franchise may be the right option for you. Famous examples of franchises include MacDonalds, Subway and Domino's Pizza, but there are franchise opportunities in virtually any line of business. Water Babies, Musical Minis and Rugbytots are all franchises in the baby and toddler world. Much like starting your own business, you will be the boss and you will typically be building a business and a new customer base. The big difference however is that you will be operating under an established brand, following proven and tested procedures to build and operate your business, and you will receive training and support from head office every step of the way. You will also own a business that you can sell when the time comes. All this support and guidance does come at a cost, however. Financially, this typically takes the form of an initial investment to buy the franchise licence and then regular (normally monthly) franchise fees. There are also limits on what you can do – the franchisor needs to protect their brand and you won't have the freedom to innovate and change course as you would with your own business. But, statistically speaking, franchise businesses have a greater chance of success than starting a new business from scratch.
---
# Option C - The Network Marketer or Independent Consultant
If the upfront costs of setting up your own business or buying a franchise make those options less appealing for you, then a network marketing opportunity might be right for you. A network marketer is an independent consultant, affiliated with a 3rd party company. You then sell the products that the company makes, to friends and family, via parties, networking and other methods. You are self-employed, you can set your own working hours, and you can normally still build a team, or 'downline', underneath you. In return for recruiting and training others, you earn a percentage of their sales too. Famous examples of network marketing include Avon, Forever Living Products, Usborne and Utility Warehouse. As with a franchise, you will typically receive training and support along your journey, and there will be some restrictions around how you operate. The big difference however, is that initial investment is typically very low in comparison. There are often fun incentives on offer for reaching certain sales targets, such as products and holidays. Depending on the organization however, you may not have a business asset that you can sell when you want to stop. The opportunity is certainly there to make a decent income with many network marketing opportunities but it still takes hard work, time and perseverance to do so.
---
For business opportunities visit: www.toddle.club/business_opps