Go Back
The World According To Kids
The World According To Kids is a unique video creation service that allows you to view your children growing up in real-time.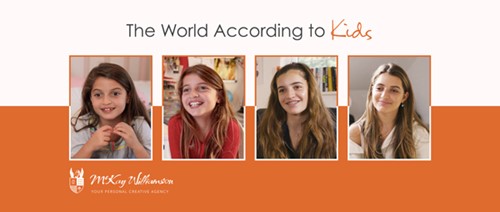 Founded by Richard Williamson in 2002 McKay Williamson redefines the way people view and display family media and memories with bespoke and deeply personal services. The creative studio works with a team of professional filmmakers to create films to tell the clients' stories. As part of the World According to Kids, the filmmakers interview and film the children recurrently, recording priceless memories along the way.  
World According To Kids captures children throughout their younger years by recurrently interviewing them at key ages in their lives. Documenting both their wisdom and naivety, the footage is edited into emotive and humorous short films, that can be enjoyed by the whole family and are frequently shared at a milestone in the child's life, such as a landmark birthday or wedding. 
The creative agency, McKay Williamson offers an array of other services that are a perfect alternative to displaying personal memories and media of the family, from bespoke artist commissions formed from the clients own cherished photographs and moments of their family and loved ones, including portraiture, fine art and mixed media, to organising and creating the hugely popular gallery walls in bespoke frames that align and complement the interior space. McKay Williamson also works with leading photographers who are able to capture and edit high-quality family photographs tailored to the client's wishes.
To get a better understanding and insight into these videos, please visit mkwcreative.com