Go Back
Summer Fun: Make Your Own Kaleidoscope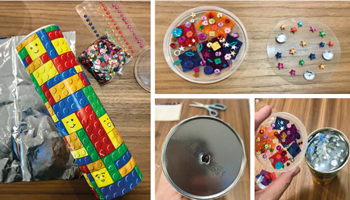 Making a kaleidoscope is a fun STEM/science activity and craft for kids. It's such a fun way to explore light, reflections and symmetry! You will need:
A Crisp tube (eat the crisps first!) with a small hole in the bottom
Silver foil
A plastic fruit container
Wrapping paper
Some small scraps of tissue paper
Clear drying glue
Sequins, glitter, stick on jewels
Scissors
Method:
Decorate the outside of your crisp tube with wrapping paper, and make a hole in the metal bottom for your eye hole – a screwdriver works well for this.
Line the inside of the tube with silver foil, shiny side out!
Cover the clear plastic lid of the crisp tube in tissue paper, sequins and glitter.
Cut a circle of clear plastic from the fruit container the same size as the crisp tube to act as a second lens, and decorate in jewels. Push it into the tube, jewels facing the eye hole.
Put the lid on and look through the hole, turning the lid. Please don't look directly at the sun but do enjoy your kaleidoscope outside. The more light you have the better the effect!
---

Nicola and Sue aka Buddies Babies and Biscuits are good friends who showcase fun ideas for parents and kids. Nicola is an experienced DT teacher with a passion for science and Sue worked in kids tv for years and adores food and craft. Check out their blog for more fun ideas! www.instagram.com/buddiesbabiesandbiscuits