Go Back
How to look after your skin as a new mum
By Karen J. Gerrard, Founder of SEAMS BEAUTY.
Being a new mum leaves very little time for anything else, with all the focus on your baby's every need.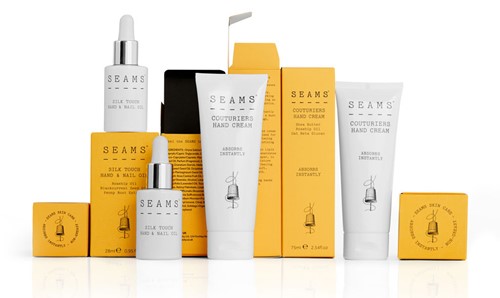 As a mother of 3 (now grown up) children, I can honestly say that I wouldn't have wanted it any other way, but it does cause a lot of stress on your skin which can be very difficult to reverse if you don't look after it properly.
That healthy glow that some of us get is said to be from happiness, but it can be that be an increase in blood volume is causing your skin to appear flushed. A rise in hormones can cause your glands to produce more Sebum which can clog pores and lead to greasy skin and acne. Skin may also become sensitive and itchy and brown patches of pigmentation can appear.
Then, as your body expands, your skin will be stretched giving you that luminous look, but afterwards when your skin contracts back it can become saggy and leave you with stretch marks.
There are now so many exciting products out there catering especially for mums! We had nothing like this 25 years ago when I was pregnant, so enjoy experimenting and give your skin the care and attention it deserves.
SKINCARE DURING PREGNANCY
The more time spent on skincare now will ensure that your skin will bounce back quickly post pregnancy.
Here are my top tips for looking after your skin during pregnancy:
Use organic, natural products, try to avoid ingredients such as retinol, salicylic acids or anything with high Vitamin A. Research has shown that chemicals in skin care products can get absorbed into your blood through the skin.
Get products that are fragrance free
Choose water-based products as opposed to oil based that can clog up the skin.
Cleanse, tone and moisturise morning and night.
A gentle exfoliation and face mask once a week.
Stay out of the sun, when going out for a walk even if it's not sunny still use a 30 sunscreen on your face.
Keeping your skin moisturised will help sustain the elasticity and collagen aiding your skin for a quicker recovery post-delivery.
Products I recommend for the different parts of your body:
TUMMY - Mama Mio have a great Tummy Rub Butter with Shea Butter and Barbadensis Leaf Juice to help against stretch marks. £35
BREASTS – Mumma Mio Pregnancy Boob tube to help soothe soreness and ease tension in the breast area.  £25
DRY AREAS – Bloom and Blossom have ranges for before and after pregnancy with products for both mum and baby. Be sure to get the wonderworker multi-tasking balm with Vitamin E safe enough to be used on dry skin, lips and sore nipples. £15
BODY – Farmologie do a fabulous body wash, fragrance free rich in beta-glucans its very hydrating and excellent for sensitive skin. £5.99
UNDERARMS – go for Salt of The Earth spray deodorant unscented, 100% natural, vegan and it contains skin soothing Aloe Vera  £2.99
FEET – Heels can become cracked at this time use a foot file once a week and moisturise with a cooling formula such as Mother Cowshed Leg & Foot Cream with Green Tea and Witch Hazel. £19
FACE – La Roche-Posay do a great sensitive skin range of cleansers, toners and Cetaphil is a light-weight, fragrance free day cream that hydrates and provides high broad-spectrum UVA/B. £9
If you see pigmentation marks appearing use Fadeout Even Skin Tone Night Cream £13.99
NEW MUM
I'm keeping it short as time will be of the essence! Your body has just been through a massive hormone dip, lack of sleep, stress, not eating properly and lack of self-care can cause your complexion to change from a healthy glow to change to dull, dry and if you are not careful lines and wrinkles will appear, so you must do something even if it's just a maintenance routine.
There are some great multi-tasking products for this
FACE
CLEANSE in the morning with a facial cleanser and a splash of water try CeraVe hydrating facial Cleanser £9.50
TONE - PIXI glow tonic will also help to buff away dry skin. £18
MOISTURISE with La Roche-Posay Nutritic Intense Riche £14.40 keep this by the sink and use it throughout the day.
AT NIGHT - Charlotte Tilbury Multi Miracle Glow can be used as a cleanser, overnight mask or as nourishing balm for baby soft skin. £45 and they also have a £10 size if you want to just try.
BODY
BREASTS – Love Boo bosom buddy £19.99 Described as a bra in the body an award winning bust toner.
SHARE - whatever cream you are using on your baby add some to yourself at the same time
ARMS and LEGS - Kiehl's Baby Cream £22 or the old classic Johnsons Baby Lotion can be rubbed into arms and legs at any time.
STRETCHED BITS - My go-to that's always in the bathroom cupboard is Bio Oil packed full of moisturising ingredients its fast to apply and great for dry stretched areas such as hips and elbows. £9.99
HANDS - Don't forget your hands, they are now being washed more than ever, you want to touch your baby with soft smooth hands use hand cream at least 3 times a day.
SEAMS Couturiers Hand Cream is gentle and safe to be able to be used around your baby you could even use it to massage your baby at the same time. SEAMS is not greasy so you can use it throughout the day and carry on.
With Shea Butter and Allantoin to soften and smooth. Whilst Rosehip Oil Nourishes and Pro-Vitamin B5  Hydrates. £14 75ml
Then if you do find that extra 10 minutes sink into a bath with a Beauty Pie face mask, Laura Crème Brulee bubbles and close those eyes..