More Parenting Articles
Lockdown Advice from The Kabs Family
Toddle About had the pleasure of interviewing Tay and Chan Kabs, better known as The Kabs Family who are fun loving, family vloggers taking Instagram and You Tube by Storm.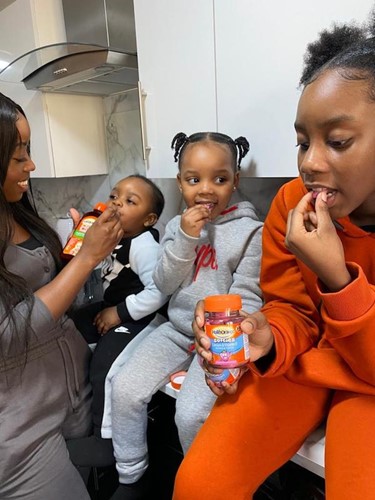 The Kabs family have partnered with Haliborange, the UK's No.1 kid's supplement brand, for their #ItsAllNormal campaign that understand that parents are bombarded from all angles with things that they 'should' be doing, 'should' care about, 'should' be feeding their kids, or 'should' look like – the 'normal' face of parenting in the UK. And yet, they're all through the same filter and diversity is still harder to find than it should be.
The #ItsAllNormal campaign encourages parents to celebrate and share the way parenting can look to remind each other that there is nothing we 'should' be doing and there is no 'normal'. We are all doing it our own way, and it's all normal.
Tay and Chan are a very down to earth couple who have three beautiful children, Teija (11), Maliya (4) and TY (1) and we wanted to ask them, being parents themselves, how they were managing and coping with home schooling and lockdown and to try and find out if they had any tips that they could share with the readers and followers of Toddle About.
How are you managing Lockdown?

Every day is different, some days are absolutely fine whereas other days can be a real struggle, no two days are the same. Chan is somebody that likes to be outside, whereas Tay typically likes to be inside, but when you are 'made' to be inside during lockdown, this has definitely changed things. Going forward we will make sure we are all outside more when things ease and lockdown is lifted.
How are you coping with homeschooling?

We were both doing the home schooling at the start but then Tay was fired as he kept getting all the answers wrong, so now he has taken over some of the other household duties like cleaning and cooking.
Have you found any unexpected upsides to lockdown?

We have found that being able to spend quality time altogether as a family, all day, every day, is something that has been amazing.
With there being different ages to try and entertain, have you found any games or activities that you are able to do together as a family?

We have found that everybody loves to sing so when we turn the karaoke machine on, all of the family will appear in the room, even little TJ likes to have a go at singing all the wrong words, but we really do enjoy doing it together as a family.
Is there anything you would like to keep once lockdown has been lifted?

Yes, we would love to make sure we keep having more quality family time together. When you are working all day and the kids are at school during the week and you're trying to keep on top of the general day to day bits, you don't realise that you just don't get enough family time together. Lockdown has brought this home to us so we would definitely like to try and make sure that we have at least two days a week of quality, family time.
Do all of your children get on together, especially with spending so much time in each other's company?

The two younger ones, Maliya and TY have the usual sibling arguments, where if one of them is playing with a particular toy, even with all the other toys they have, they will always both want the same toy at the same time. Apart from that they all get on quite well.
Do you have any advice for parents that are finding it hard to cope?

Remember, you are not alone. You need to do what is comfortable for you and your family. If you can set a daily routine, something like the children are used to following at school, then you may find this helps. Even if it is just keeping work and lunch times the same and then ending the school day at the usual time so the children know that is the school day over and they can then carry on playing at home like they usually would. However, if this doesn't work for you, just do what you can and whatever is easiest for you, this isn't going to be forever and we are all trying our best.
If there is something you can't manage one day, that is fine, just leave it and try again tomorrow, or another day that you feel you can. Also, don't try and think you have to get everything done in one day - if you don't get round to doing something that you had planned to, again, don't worry, there is always tomorrow. At the end of the day, you will find that when you are more relaxed and happier, then your children will be as well, and this will make things so much easier all round.
Do you have anything else you would like to say to the readers and followers of Toddle About?

Yes, if anybody else would like to find out more about the #ItsAllNormal Campaign from HalibOrange, please to take a look and follow them on Instagram @haliborangeuk.
Interview Credit: The Kabs Family are working with Haliborange, the UK's No. 1 kids vitamin brand, on its #ItsAllNormal campaign, encouraging family units of different types to share their 'normal' – because it's all normal! Haliborange supports kids' growth and development at every stage. To see more #ItsAllNormal family stories, and share your own, visit @haliborangeuk on Instagram.