More Parenting Articles
How to Establish a Bedtime Routine with Childs Farm and Sleep Expert Lauren Peacock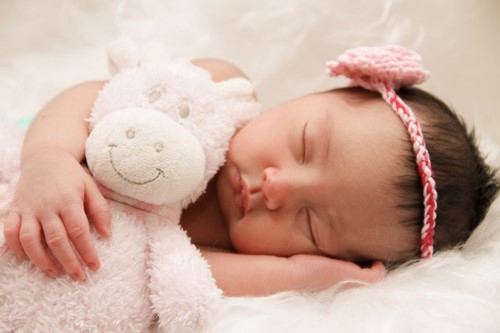 As the UK's number one children's toiletries brand, Childs Farm knows that parenting little ones comes with a fair few bumps in the road.  And one of the biggest hurdles can be establishing a successful sleep routine. Creating a calm environment and a soothing bedtime ritual is crucial for the well-being of both baby and parents. But let's be honest, it's not as straightforward as the books tell us, especially when Mum and Dad are tired too.  Indeed, an annual sleep survey carried out by The Lullaby Trust revealed that 44% of parents believe their little ones should be sleeping more, and with the hashtag #cantsleep trending in recent months since coronavirus lockdown, many are struggling to get their heads down for the night.
So, to help, we've launched Baby Bedtime Pillow Spray, Organic Tangerine. Designed to complement comforting and peaceful bedtime routines, the pillow spray has been developed with a soothing fragrance with a zesty sweet yet delicate citrus aroma, which promotes relaxation and a sense of calm to help your little one drift into their much-needed slumber. It contains 96% natural and natural origin ingredients.
And the team at Childs Farm has also been working with Sleep Expert and founder of Little Sleep Stars, Lauren Peacock, to help parents and their little ones get the Zzzs they deserve.
Lauren comments:
"Creating the right sleep environment and a great bedtime routine is amongst the most valuable tools in your parenting kit, as both can significantly impact how well your little one sleeps.
When to start a bedtime routine
It is never too early to start a bedtime routine so, if you can, start one within the first few months of baby's arrival. Routines are essential - the earlier you start, the sooner your little one is likely to recognise that there is a pattern of activity that precedes sleep. It's also never too late to implement one! So, if you don't already have a simple and positive routine in place, now is a great time to introduce one.
The golden two hours
The final two hours of the day are integral in building a settled overnight sleep. Together with sleep environment, the practices we have around sleep contribute to what is known as "sleep hygiene" – the better our sleep hygiene, the better the prospect of us, and our little ones, sleeping well.
Here are my easy and super-effective ways tips for making bedtime a breeze:
Avoid screens for at least an hour, ideally two, before bedtime
For great sleep, we want a little one to have a high level of sleep-inducing melatonin at bedtime. The blue light emitted by screens inhibits the production of this super-sleep hormone, so their use is best kept to earlier in the day.
Eat for sleep
Aim for the last solid meal of the day to be around two hours before bedtime. Older children may need a bedtime snack if they no longer have milk at bedtime. Did you know that some foods have sleep-promoting properties such as bananas, eggs, almond milk, and wholegrains like cereals or a slice of brown toast with low-sugar peanut butter? On the other hand, sugary snacks and those with hidden caffeine (such as fizzy drinks and chocolate), are common sleep-blockers.  
Go with the flow
Bedtime routines work when there is a flow from the daytime area straight to the bathroom for a soothing bubble bath and then to the room where your child sleeps – with no detours in between. Going in and out of rooms is stimulating for a little one and can make the settling process harder. This is especially true if there is a return to a room a child associates with daytime play.
Timing is everything
For most children, no matter what their age, a bedtime routine of 30-40 minutes is perfect – from the point of going upstairs to them being in a position to fall asleep.
 A haven for sleep
Great sleep has a lot to do with the environment. Using multi sensory sleep cues works particularly well, and a spritz of a pillow spray, such as Childs Farm baby bedtime pillow spray, works on several levels. Our sense of smell is incredibly powerful, and essential oils can help our whole body to relax and calm. The familiar smell and the actual act of spritzing can also become a cue for sleep, subconsciously helping a little one to become ready to settle. Allowing a child to take charge of the spraying is a great way of giving some age-appropriate control around bedtime – a useful tool in avoiding a bedtime standoff with an older toddler or preschooler!
Wherever possible, keep the overnight sleep environment consistent with bedtime, down to the multi sensory sleep cues. All of us, adult and child, wake in the night, but a child is more likely to roll over and return to sleep if their sleep-space feels secure and familiar. An age-appropriate comforter can be a great tool in this regard – especially if they have been treated to their own spritz of pillow spray so that it also smells like sleep. Spritzing their comforter is also a great technique for when you're away from home, to remind your little one of home comforts and their everyday bedtime routine. For little ones who are inclined to suck, once sprayed it is important to tuck the comforter out of baby's reach to keep them sleep-safe and to avoid them digesting the spray.
Keep it consistent
Babies and young children thrive on consistency and predictability – knowing what comes next helps them feel secure. The same steps in the same order, even down to saying goodnight to the same three teddies, can make a real difference in how easily a little one settles down. Similarly, when a little one associates bedtime with smelling a certain way, the presence of that scent will be a powerful trigger for sleep.
Once a child has a strong and consistent bedtime routine, it can help them adapt well to a change of environment and/or who puts them to bed as the routine itself provides security and becomes the cue for sleep. Happy sleeping!  

Childs Farm Baby Bedtime Pillow Spray is available direct from www.childsfarm.com and exclusive to Boots stores nationwide from 6th July 2020. RRP £8.00, 125ml.
Childs Farm Baby Bedtime Pillow Spray is the newest addition to Childs Farm's award-winning baby bed-time range for newborns and upwards. The bed-time range is designed to support families in creating a relaxing, calming night-time routine and provide bonding time through sharing special moments with little ones at night.
The bedtime range, which is dermatologist and paediatrician approved as suitable for sensitive skin and safe for people who may be prone to eczema, includes:
Childs Farm baby bedtime bubbles – an award-winning mild, foaming bubble bath that contains tangerine oil to calm and soothe, and vitamin E to gently moisturise – perfect for baby at bedtime. Use in every bath for happy skin and relaxing bath times.
Childs Farm baby oil – contains four oils including organic coconut oil to moisturise all skin types. It's light, luxurious, mild and gentle – perfect for a baby massage to soothe and relax your little one before bedtime.
Childs Farm baby moisturiser – this award-winning, mildly fragranced, baby moisturiser contains some of nature's finest ingredients. It's been specially formulated to help protect and hydrate baby's delicate skin.