More Parenting Articles
How to Budget and Still Have Fun with Your Tots
After last year's gruelling lockdown, you're probably looking forward to making the most of this summer. Maybe you're planning on small road trips and visiting with family, dining out at restaurants and patios, or taking the kids somewhere special.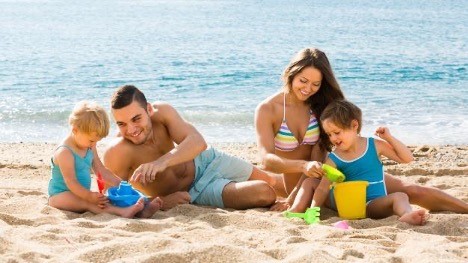 It's been so long since you did these things, you're ready to squeeze every last iota of fun out of the season. But you might be out of practice after spending so much time at home. In all your commitment to fun, you could ignore the costs of your plans.
What if You Leave Your Spending Unchecked?
A little splurge here and there won't hurt anyone. But overspending for an entire season could leave your family's budget in shambles. You can wind up spending so much on fun that you fall short of what you need when bills come due, forcing you to use your emergency fund to make sure you don't fall behind.
Using up your emergency fund on summertime fun is a risky idea. It leaves you unprepared for unexpected car trouble or household repairs.
What can your backup plan be in an unexpected emergency? Consider visiting MoneyKey to learn more about emergency cash advances, like instalment loans and lines of credit. These online cash advances may provide a safety net until you refill your emergency fund.
How Can You Budget for Fun?
Budget is the operative word. Sitting down to understand how much your family can afford this summer will help you set a reasonable spending limit.
You'll have to take into account your regular expenses, outstanding student or instalment loans, and your overall income to see what you have left over for sunny activities.
Affordable Summer Activities
Don't worry if you have less to work with than you thought. You and the kids can still have a lot of fun on a modest budget. Here are some inexpensive activities to give you some ideas.
Explore the Outdoors
Get everyone in their hiking boots and grab your bug spray before heading out to a public park, nature conservatory, or wildlife refuge. Heading out to the woods (or even a manicured nature trail) is a great way to make memories and teach your kids about the world around them. Best of all, playing naturist for a day won't cost much more than the gas money to get there.
Have a Picnic
Whether you're stuck in the city or road tripping to the countryside, a picnic is another fantastic family activity. Stock your cooler with everyone's favourite meals and summertime drinks, and don't forget to bring some lawn games to pass the time.
Visit the Beach
Nothing says summer like a trip to a sandy beach, so why not spend time by the water? You and the kids can cool off for free — whether you live by the ocean, a lake, reservoir, or even a community pool.
Participate in Community Events
Check in with your municipality, library, or local park system to see if they're organising any summer family activities. There's something for the whole family with possible story times, sports leagues, arts and crafts, outdoor movie screenings, and nature walks. Best of all, they come with a relatively low admission price if they're not free.
Having Fun on a Budget is Possible
Remember these affordable summer activities and budgeting tips when you plan around the season. You and your kids can enjoy the summer to the fullest without wasting money.