More Parenting Articles
How to take great photos of bumps or babies indoors during a lockdown
Guest post from Laura Laws from LC photography.
Hi - this is Laura. I have a photography studio in Gawcott and have been a photographer for around 18 years. 
I've been chatting this week with some of my clients who are missing shoots they have booked with me, and many of them have been asking for tips for taking photos indoors. So, seeing as we're a little stuck at the moment, I thought I'd share my top tips with you too! This is for photographing bumps, babies and that scrummy 'sitter' stage. I don't want you missing a beautiful shot of these oh so important milestones.   
When you're shooting indoors, a window is your best friend.  You can either set up a camera or camera phone in position and use the timer function or you can work it yourself or instruct a partner (fellow cellmate!).  With the exception of the silhouette bump, whatever you're photographing, have the camera with it's back to the window, but not blocking the light.
Here are some examples taken using my iPhone, it's not a super fancy one but it does have portrait mode. Thank you to my beautiful bump model - my husband! 'Baby' is my son's bear I bought him when he was born 21 years ago.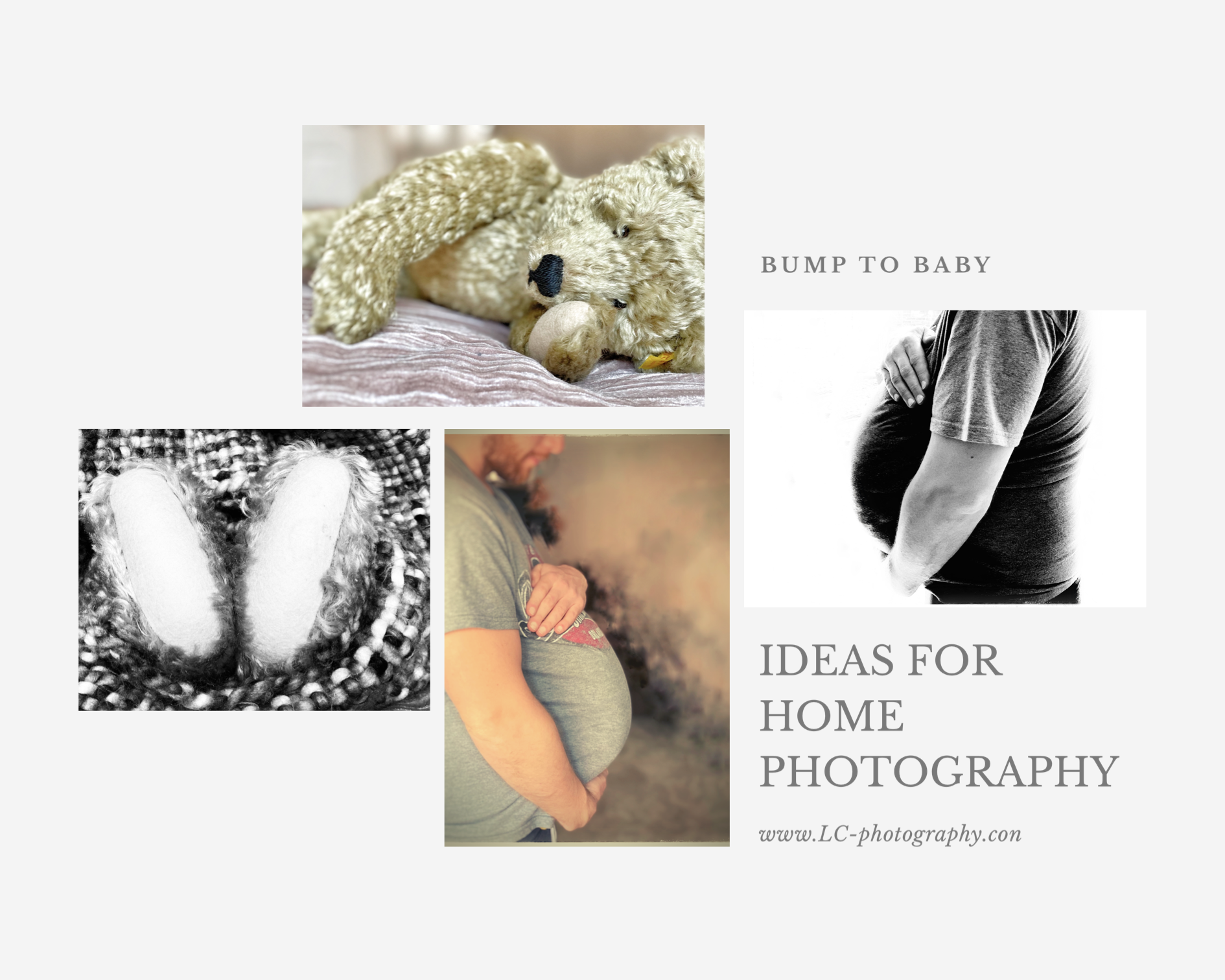 BUMPS 
Move your bump around until you get the right shadow, you want the most light on the furthest point of your bump from your body. If using a phone, tap on your bump to expose correctly. If you're using a camera, set to around f4 or use portrait mode. (You can get in touch with me for specific settings on your camera if you like, I have plenty of time to chat!)  You should see the room fade away into darkness. For a SILHOUETTE, swap around and you stand in the window when the sun is shining straight at it and photograph towards the window. Click on a bright spot near bump to set exposure and you should get a silhouette.  I would try an f14 on your camera for these, tweak the settings if you can and have a play about.
NEWBORNS
(DISCLAIMER - never leave baby unattended and don't do the silly poses you sometimes see babies in in photographs, usually these are composites and are quite often unsafe.  Don't put baby face down on the bed.)
For these you need a beautiful, soft diffused light so try and avoid direct sun through the window - mid morning and mid afternoon light is lovely so pick a room to take advantage of that.  Lie baby on your bed as near to the window as possible.  Have baby's head slightly nearer the window and toes away from window.  Don't photograph 'up' the nose, try and position yourself so you photograph down the baby's face. Get close ups of toes (move baby's position to toes near window for this), lips, eyelashes, ears.  Gorgeous!
SITTERS
Ah it's getting interesting now! You have a moving subject.  Use the room set up again and if you have glass doors (eg patio doors), all the better.  Have baby sat facing the window and you get down on your tummy. Use portrait mode or set to F4 (F2.8 if you have a fancy lens). Have a bit of floor in shot and that will create a lovely 'fade away' look.  To get bubba's attention I use fake sneezing or an opera style sing-song voice - this works amazingly for dogs too!
EXTRA TIPS
Avoid direct full-on sun, except for with the silhouette look.
Download some free editing software and have a play.

 

Make that silhouette shot black and white (I never supply these in colour). 

A great free app for phones is 'Snapseed'. I've edited my examples using that.

If your rooms are too cluttered to give a nice look, hang a dark sheet up as far back as you can from your subject 

or use the tool in snapseed that looks like a plaster, it's called 'healing'. 
So... I may have done myself out of a career as you'll all be amazing photographers now! Do share what you're created with me, email me LAURA@LC-PHOTOGRAPHY.COM or post on my facebook page: @LCP2001. I'll be picking a winner to give a free shoot and print to when we're all back and at it.  
Early days with your baby go so fast, treasure them. Take a moment to breathe and appreciate the wonderful. 
Keep calm, stay kind and carry on.  We've got this.
----------------------------------
Contact the Author
Laura Laws: Principal Photographer at LCp
studio : 01280 812573
mob : 07786 158969