Go Back
It's easy to be green when you rent your baby clothes
Parenting is hard. Eco parenting is even harder. Cloth nappies, homemade organic food, second hand clothes - there are so many things we 'should' be doing to protect our babies and the planet. Sleep-deprived and busy, we do our best, feeling guilty all the time about something. What if there was one thing you could do which saved you time, money, and the planet too? Borro aims to do just that – making sustainability easy by enabling you to rent, rather than buy, your baby clothes.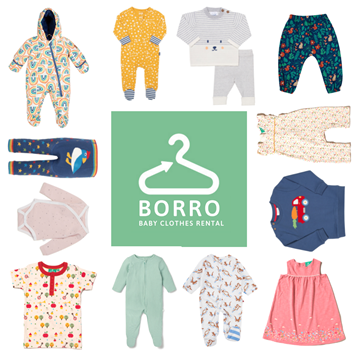 With babies going through five sizes in their first year, they are the original fast fashion! And with the fashion industry contributing 10% of annual global carbon emissions*, we know we need to fix this for our babies' future. Eco-guilt aside, there's all the faff of what you do with the clothes when they've outgrown them. You have to sort them, store them, resell them, donate them or send them for textile recycling – another thing on the to-do list! Borro is a completely hassle free service that makes your life easier and promotes a much more sustainable way to enjoy the most beautiful baby clothes.
You can choose from premium organic brands like Mori, Kite, Little Green Radicals and Newbie, pay monthly per item, return for free and repeat. There's no minimum or set subscription plan and you can cancel anytime. And stains?! We all know that babies stain things so Borro will never charge you if something comes back with tomatoes (or worse!) all down it. At Borro they love and care for the clothes so they use professional cleaning and repair to keep them in the loop for longer rather than on the way to landfill.
Doing the right thing for your baby just got easier!
For more information visit www.borro-it.com
*Report published by the United Nations Environment Programme and the Ellen MacArthur Foundation