More Parenting Articles
Baby's Red Book joins the digital age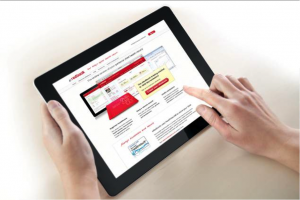 When your baby was born, you – and all the other new parents across the UK - were given a Red Book. You use it to record your baby's growth and development and to learn about what to expect as new parents. Now the Red Book is being brought into the 21st Century – in the form of the eRedbook. The eRedbook allows you to record your baby's information in an online, digital version of the traditional health record. Just like the paper version it is kept and updated by the parent and data can also be added by health professionals with permission. It can be used on Smartphones, tablets, iPads and laptops and can be accessed from anywhere in the world through an internet connection.
South Warwickshire Foundation Trust (SWFT) is taking part in the national pilot scheme to test the eRedbook and need as many new parents across Warwickshire as possible to create an account, use it and share their feedback. Their thoughts will help to design future versions of the product and will ensure that the eRedbook becomes as useful as it can be for parents and their children. There are currently over 1,000 families updating an eRedbook in Warwickshire and in Liverpool and those who are trying it are impressed with it so far.
Try it for yourself
If you are a parent in Warwickshire, you can create your own eRedbook to try it for yourself by visiting www.eredbook.org.uk/warwickshire where there is a short promotional film featuring a family from Rugby using the eRedbook themselves.

It costs nothing to take part and this is NOT a commercial product so no advertising is used and no one, except the eRedbook team for collecting feedback, will be in contact with you. Your email address won't be used for any other purpose. For further information, please get in touch with the Assistant Project Manager of the eRedbook pilot project, Helen McGowan on helen.mcgowan@swft.nhs.uk or 07930 543 938. You can also find the eRedbook on Facebook at eRedbook Warwickshire eRedbook is supported by the Technology Strategy Board's dallas programme sponsored by the Department of Business Innovation and Skills.