More Parenting Articles
6 Best Animation Makers for Kids to Use in the Classroom
Animation has always been everyone's favourite form of video. Who wouldn't love those caricatures to move and sing along?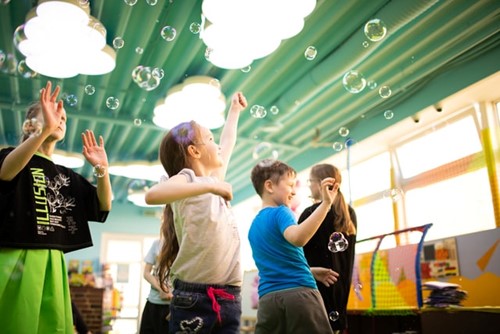 Teachers have started using picture animations to induce creativity among kids in the classroom. The different animation techniques help the kids learn to draw and express themselves. It is also an excellent way to educate the kids and improve their learning.
For example, if a kid wants to showcase their knowledge or bring to life a concept, the animation videos can help. They can create numerous projects from the animation videos and present their ideas. It is an excellent representation of how and what they want to communicate. 
It is crucial to choose the right video maker tools for the classroom to enhance learning while allowing the kids to explore and learn. Several animation makers and editing tools make learning exciting for the kids. You will need to choose the one that aptly suits your learning environment and how you want the kids to learn. 
There are several animation apps available for both iOS and Android. You can download them and install them on your device to get started. Most tools that are available online can be used by beginner animators too.
Top Animation Video Maker Tools to Use
If you plan to introduce animation in the classroom, you will need the right video maker tools. Several tools can help you create the animation and enhance your video-making abilities.
Here we will take you through the top six animator tools.
Animation Kit
This is an iOS-only tool and is used across iPhones and iPads. If you are looking for a beginner tool, you have hit the right place. It offers exciting sequences that you can associate with your drawings, photos, or anything else that you want to animate. 
The tool comes with several ready-to-use template options, including ocean floor, summer, and forest themes. You can use them to kickstart your animation videos.
You also get tools to convert your high-quality drawing into an animated video. The video maker tool can also help you create animated videos using the iPad within minutes. You can adjust the frame using drag-n-drop to add the start and finish time.
Of course, the best part of this tool happens to be its usability and accessibility. Additionally, the tool allows you to animate any drawing within minutes. 
InVideo
It is a self-serve video maker that allows customers to convert their ideas into winning videos within minutes. You can use the several templates part of the tool to quickly start your creation process. A usable and accessible interface allows people with no video creation knowledge to get started.
You can add animation to your videos, shorten the frame length, and include images and text as per your need.
You get a free trial for this tool so that you can test run and check its ability. You can choose the photos and videos from the tool to add and create one for your business. 
The tool is constantly developed and furthered to match the client's expectations based on the inputs. It is one of the easiest ways to create classroom explainer videos and presentations as it has been developed to cater to all age groups.
Toontastic
If you want a tool that can be used across iOS and Android, go for toontastic. This 3D tool allows students to draw and animate. You can even create cartoons and make the caricatures move with this tool.
It helps students with their storytelling habits. They can convert any story into an animated visual with simple yet effective tools.
The best part of this app is the appeal and exceptional support. You can also rely on the in-built features of the app to tell stories. It is a usable and highly user-friendly tool that you can use to create videos of your choice. While it is not specifically designed for schools, its user-friendly interface makes it accessible for all age groups.
You can use this app to create book reports, news broadcasts, and simple marketing stories.
Tellagami
If you want your kids to learn while creating the animation, then Tellagami is your tool. Teachers and students can use it to help ace classroom sessions. With this tool, teachers can animate a simple maths problem and help students understand the concept.
It also helps improve the quality of classroom teaching by animating the stories that can enhance learning. Using this application, you can choose to create characters with defining colours and skin tone. Using this tool, kids can communicate important information, talk about issues and tell crucial stories.
It is a helpful tool for presentations too. Students can convert presentations into nicely crafted activities that are interactive and interesting.
If you want to use the advanced features that make storytelling interesting, you may need to opt for the paid version of this application.
Animoto
This is another app that runs only on iOS systems. It is an animation video maker tool that allows you to create interesting slideshows out of our content. With this tool, you can combine your information, such as the images, text, and even small clips, and create animated videos that connect with your customer.
This tool showcases how you can blend small glimpses and texts into a beautiful story. There is a library with different video styles, images, and music that you can choose when creating your animated video.
You can also use the tool and its inherent graphics to create promotional videos. Whether you want to distribute a school newsletter or share a fundraising campaign, you can use this tool to get started.
Puppet Pals
This is yet another iOS-only video creator tool that you must use to deliver exceptional stories. It will help introduce the concepts to the viewers and help them grab the details.
It is majorly a cartoon creator tool. So, if you have a story and want to tell it via animated videos, this one's for you. The tool offers a range of animation options. You can create quick animations and devise interesting concepts within minutes.
Apart from the cartoon animation, this tool also teaches you a lot about narration, background score, voice projection, and expression. You can introduce thematic learning and artwork in your classroom by adding this tool to your video maker range.
Conclusion
Video maker tools can enhance learning and improve conceptual understanding within the classrooms. They allow the students to express emotions, convert stories into appealing visuals and enhance the storytelling journey.
With the right partner or tool for your video making, you can redefine in-classroom experiences. These tools are just a few that have been made to this list. There are several others, some free to use. You should ideally incorporate the video maker that best suits your requirements.