Read More News
The Lockdown Activity Guide - Issue 1 (1st - 14th June 2020)
The first edition of the Lockdown Activity Guide is now ready and available for you to read and download for FREE!
Download The Lockdown Activity Guide
Share and Win £100 of Children's Books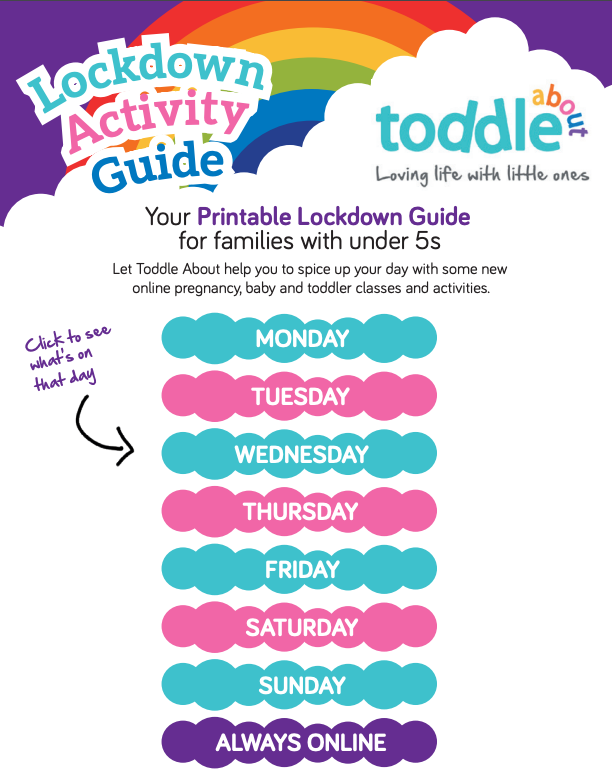 What is The Lockdown Activity Guide?
Much like the Daily Activity Planner in the physical Toddle About magazine, The Lockdown Guide is your one-stop-shop for all the online classes that are running for babies, toddlers and pre-schoolers. There are also plenty of activities for their grown ups too, including pregnancy classes.
Broken down day-by-day, the Guide helps you easily find an online class for little one's mood and temperament that day. We list all the activities we can find, including the free things, handily listed in different categories.
Subscribe for FREE
A new edition of The Lockdown Activity Guide will come out every fortnight.
You can subscribe to The Guide for FREE and we will email you with a link to the new edition every 2 weeks.
Print it off or read on your device
We have designed The Guide so you can print it off at home and have a nice physical copy to browse through, or quickly pick up in an emergency!
You can also read The Guide on any device - it is full of clickable links to help you. Every Class name can be clicked so you can find out more about it, and many have 'Book Now' buttons. Bookings are taken through Toddle About's sister company, Book That In, so you can be confident the bookings are secure.
As this is our launch edition, we want the world to hear about the new Lockdown Activity Guide!
If you share and comment on our post on Facebook, we will automatically enter you into a competition to win over £100-worth of children's books to say 'thank you'.
Subscribe Today - Complete the form below:
Can't see the form? Click here to open the form in a new window.