Read More News
Jump on Board and Join #TheCrew
#TheCrew is an exciting children's club linked to the Children's Air Ambulance where children can learn about saving lives, helicopters, medicine, fundraising and how a charity works.  The club offers advice and teaching on community work, volunteering, working as part of a team and supporting good causes which form part of many school curriculums.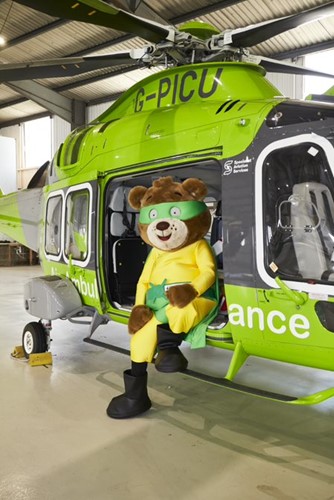 They also run special events where members can see our helicopters, meet the pilots, doctors and paramedics.  Their mascot Blade is always showing up at these events and is always ready for a high five! If you would like Blade to attend an event you are planning too, then this can be arranged!
How does #TheCrew Membership Work?
#TheCrew is completely free to join and it's really easy to sign up. All they ask is that each member tries to raise £25 for each year that they are in #TheCrew and if they do a great job by either raising funds or spreading awareness, they could become a silver or gold member, which comes with additional rewards, and they is an amazing team on hand to help with tips, materials and organisation.
The Seasonal Badge Challenge
A #TheCrew member could earn the four exclusive #TheCrew badges if they join in the new challenges that are run each season. Take park in different activities and they will send you exclusive badges to reward you for your achievements.
Welcome Pack
Once your application has been processed, children will received a welcome pack containing a welcome letter, fundraising toolkit, lanyard, membership card and certificate.
For more information about #TheCrew and how to sign up, visit our website https://theairambulanceservice.org.uk/childrens-air-ambulance/the-crew/
Toddle About HQ's Lou is mum to Joey, who is a very proud member of #TheCrew and you can read a little bit of what Joey has been up to to raise some vital funds for The Children's Air Ambulance this year.
Back in February 2021, during the third lockdown, Joey, age just 6 years, was given a challenge by his school to do 100 of something just like Captain Sir Tom Moore did, this had him making 100 key rings from scratch, but as we didn't have the need for 100 keyrings at home, as a family we decided to hide them around our local town for people to find and Joey had written inspirational quotes on the keyrings in the hope that they would cheer people up whilst in lockdown.
After Toddle About previously helped The Children's Air Ambulance with some much needed promotion (Life Saving Helicopters Go Green in Oxford), which Joey had heard me talking about at home, we decided that we would try and raise a bit of money for them, so we popped a little note in with the keyrings asking people, that if the keyring made them smile, that if they would like to donate a small amount to The Children's Air Ambulance, it would make Joey smile. So we set up a little GoFundMe page and within 12 hours, Joey had already smashed his £250 target.
Anyway, to cut a long story short, Joey is currently running his fourth fundraising project as I write this, and has currently raised almost £2500 for The Children's Air Ambulance and he loves being a member of #TheCrew and would love for other Children to join up and do the same.