Read More News
Meet the six-year-old boy who is leaving inspirational keyrings around Northamptonshire town
A six-year-old, who happens to be the son of Toddle About employee, Lorraine, has spent half-term making keyrings with inspirational quotes on them and hiding them around his home town in bid to make people happy and to raise money.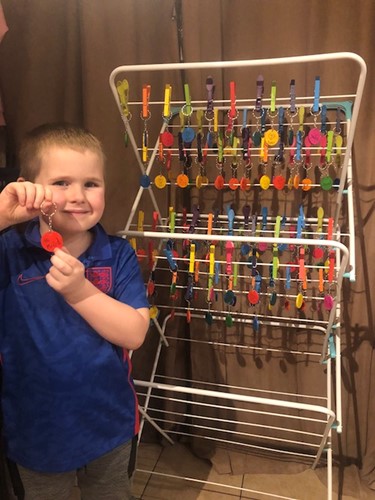 Joey Holmes and his classmates were set a challenge by their teacher to do something 100 times during the school break, inspired by Captain Sir Tom Moore.
The youngster, who lives in Towcester, was originally thinking of doing laps of his garden, but his mum says he likes a challenge and is quite creative, so he came up with the keyring idea.
Lorraine Holmes said: "We sat down as a family and him and his sister came up with the idea that would include other people.
"We obviously don't need 100 keyrings, so we decided to leave them around the town for other people to find.
"Joey really wanted to do something to make people smile, so he started painting the keyrings, doing a few a day.
"Then he would write things like 'laugh' or 'love' or 'be happy' on them and he just cracked on and got them done.
"He is a kind, loving little boy who wants to make everyone happy and doesn't like to upset anyone. We are really proud of him."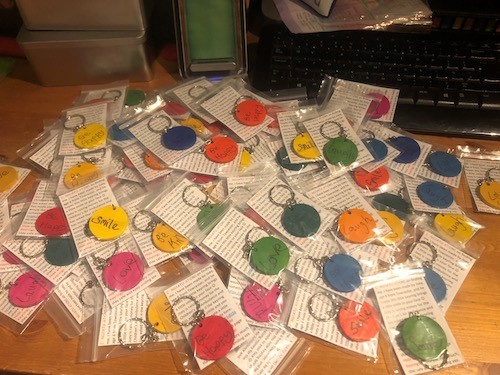 As well as making others smile, Joey also wanted to take on fundraising, so the family added notes to the keyrings asking anyone who finds one of the gifts to donate to Joey's online fundraising page, if they are able to.
Flying medic causes are close to the family's heart, as Lorraine's father had a heart attack 14 years ago and had to be airlifted to hospital.
As well as hiding the keyrings and notes around the town, Lorraine also shared the fundraiser on the community Facebook page. Joey has raised more than £400 already in less than 48 hours, after setting out to raise just £250.
"We posted on the page so people could look for them, but a lot of people got in touch to say they wanted to donate anyway.
"People have also been sharing photos when they have found the keyrings. It's been amazing.
"Joey gets very excited when we get a notification to say someone has donated."
As the keyring fundraiser has been such a success, the family is now organising a quiz and are hoping to get in touch with local businesses for prizes.