Read More News
Kids Book on Kindness Receives Praise from Harlan Coben
Tomorrow I'll Be Kind by Jessica Hische got the seal of approval from #1 New York Times bestselling author Harlan Coben during the quarantine reading recommendation section of the Today show on the 20th May.
Coben, who is well known for his mystery novels and thrillers, recommended Tomorrow I'll Be Kind, a picture book for children aged 2 to 5 saying it has: "really cool illustrations, the kids seem to really be drawn to it."
Tying into the theme of kindness during this year's Mental Health Awareness Week (18th – 24th May), Coben also praised the book for providing "wonderful life lessons without beating you over the head. And really, who can't be told enough right now to be kind and show some tenderness?"
In the follow-up to Tomorrow I'll Be Brave, award-winning creator Jessica Hische has brought to life another series of inspirational, hand-lettered words of wisdom, hope and positivity alongside adorable illustrations of love and caring. This uplifting book is a reminder to all readers, young and old, that the smallest kind gesture can make the biggest difference.
'Tomorrow I'll be all the things I tried to be today: Adventurous, Strong, Smart, Curious, Creative, Confident, & Brave. And if I wasn't one of them, I know that it's OK.'
Amazon reviews of Tomorrow I'll Be Kind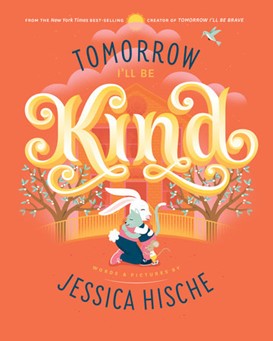 "As a parent today, one of my biggest concerns is my kid growing up to be the kind of person who does not treat everyone with love and kindness—no matter how they look, where they are from, what language they speak, or who they love. This book reinforces the exact lessons I want her to know, along with the same beautiful drawings and art that accompanied Jessica Hisches' first children's book Tomorrow I'll Be Brave I strongly recommend this book." – Brittany
"My 3-year-old son LOVES her book Tomorrow I'll be Brave, so when I saw she was writing a follow up I pre-ordered right away and I was not disappointed. Jessica Hische is an incredible artist, the illustrations in the book are charming, sweet and captivating. The message is just as uplifting as in Tomorrow I'll Be Brave and my son now insists we read them together. Each page features an uplifting quality, written in gorgeous artistic typefaces that embody the author's style. I highly recommend this and Tomorrow I'll Be Brave to anyone with young children, and they make a wonderful baby shower gift! – Amber
"Beautiful book! Gorgeous words and illustrations with important life lessons throughout the book." – Amazon reviewer
Tomorrow I'll Be Kind is available to purchase as an e-Book via Upside Down Books for £3.99 via the Trigger Publishing website. Paperback edition coming 3rd September 2020, RRP £6.99.
About the author
Jessica Hische is a lettering artist, illustrator, and avid 'procrastiworker' living in Oakland, California. Her clients include Wes Anderson, Starbucks, Tiffany & Co., The New York Times, and the United States Postal Service. She's been named a Forbes 30 under 30, an ADC Young Gun, and a Print Magazine New Visual Artist, and her work has been featured again and again in design and illustration publications across the globe. She currently resides in Oakland, California, United States. For more information, please see www.jessicahische.is