Read More News
The Big Breastfeeding Café is now Online on 6th May 2020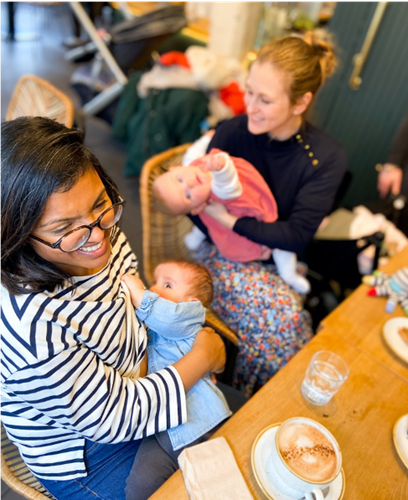 The Big Breastfeeding Café is an annual event run by Medela and this year it is running online LIVE, via Facebook and Instagram.
The event's key focus is to connect breastfeeding families across the country, sharing support, encouragement and giving them all a virtual high five.
There is a jam-packed day planned over the course the virtual Big Breastfeeding café on 6th May, bursting with supportive content, live talks, competitions and more. Including actress Ali Bastian, sharing her breastfeeding experience and influencer, At Dads Table, sharing his tips and tricks for partners to get involved.
There is also an army of influencers geared up to join with a cuppa from home! No doubt tips and positive supportive will be in full swing set to reach thousands of mums.
The virtual café is taking place across both Medela's Facebook page and Medela's Instagram page all day, with activity starting from 9am. There will be competitions, mum-to-mum advice and lots more shared throughout the day.
Big Breastfeeding Café Schedule
The live content starts at 10am, with Medela's Lactation Consultant, Sioned Hilton, covering what to expect in the first 48 hours of breastfeeding. Here's the Instagram/Facebook live schedule:
10am – Lactation Consultant Sioned Hilton – What to Expect in the First 48 Hours of Breastfeeding 
11am – Ali Bastian  – My Breastfeeding Story

1pm – At Dad's Table – Tips for Partners

2pm – Ellie from My Baba – My Breastfeeding Story

3pm- Hannah from Jolly Brown – Breastfeeding Fashion Hacks

4pm – Lactation Consultant Sioned Hilton – Your Breastfeeding Questions Answered
Medela's Marketing Manager, Charlotte Price, commented: 'At Medela, we are extremely aware of the unique and important role mum friends play in each and every individual breastfeeding experience. Receiving encouragement or advice from a friend, mother or sister can make all the difference to a new mum who is struggling. We are ensuring our content and community is accessible to all as part of our virtual breastfeeding support."
Medela is also continuing its #mybreastfeedingtip initiative. So far, more than 200 mums have got involved sharing their tips and support to other mums, reaching over a staggering 200,000 virtually.