Magazine Overview
Toddle About West Northants
For Northampton, Daventry, Towcester & Brackley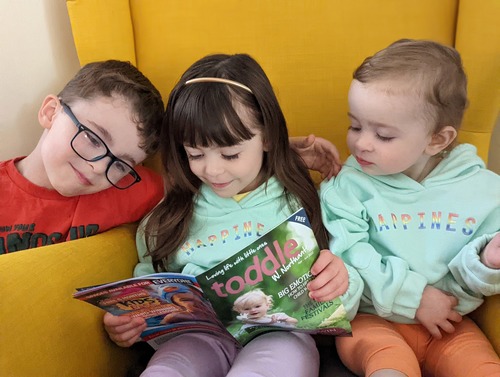 Hi! I'm Ally. I have three tiny tornadoes myself aged 6, 4 and 2 and used to use Toddle About for the Daily Activity Planner to keep us all busy before deciding to jump in and run the West Northants area. If you have any queries at all please feel free to contact me via this website, email or social media. 
Toddle About Northamptonshire is the only resource you need if you have children aged bump to 5 years in and around Northampton, Daventry, Towcester and Brackley.
Many parents refer to Toddle About as their 'Bible':
100s of baby groups and toddler classes in Northamptonshire (inc. the free ones!)
Ideas for family days out in Northamptonshire
Discount vouchers, special offers and competitions
Get discount vouchers delivering £100s of savings with local and national businesses
Keep informed about local news and the latest developments in the baby and toddler world
A handy, searchable directory of local businesses useful to families with babies & toddlers
Fun & interesting articles and features for parents
Read Current Issue (Oct - Dec 2023)
You can subscribe to the magazine and become a VIP member for just £2 every three months. Or you can read for free using the link below. 
Read the
current magazine

Really useful magazine with all kinds of info in one easy place. Found the lists of baby groups etc so helpful. Love the articles and competitions too!
This magazine is absolutely amazing and offers much more than you think! The content is not only really helpful but it is great to read and truly interesting too. I always recommend to fellow mums and family members 😊
The magazine is great -full of useful advice and great ideas for days out and classes/activities. And if that's not enough, great competitions too.
Great magazine, always lots of useful information, plenty of competitions, I'm always waiting for new one!
Previous
Next