World Book Day Competition - Win one of 3 Children's Book Bundles worth up to £300
In celebration of World Book Day, we are giving away THREE bundles of children's books, worth up to £300 EACH!
This is our biggest book giveaway EVER.
We've teamed up with several of the country's best publishers to give you the best gift ever (well, we think books are the best anyway!) - these are mostly brand new titles that have been released in the last 6 months.
We have 3 bundles of Children's books to give away:
1. The Baby Bundle: Worth £194
This bundle includes the following 25 titles: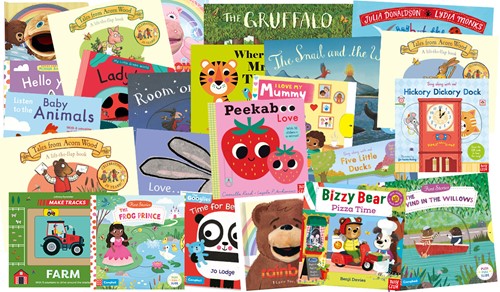 Rainbow - Time for Bed, Zippy; Rainbow - I Love You, Bungle!; Rainbow - Let's Play George; The Gruffalo: Push, Pull and Slide; Room on the Broom: Push, Pull and Slide; The Snail and the Whale: Push Pull and Slide; Postman Bear by Julia Donaldson and Axel Scheffler; Rabbit's Nap by Julia Donaldson and Axel Scheffler; Hide-and-Seek Pig by Julia Donaldson and Axel Scheffler; What the Ladybird Heard at the Seaside by Julia Donaldson and Lydia Monks; Busy Storytime; Busy Books: I Love My Mummy; Googlies: Time for Bed, Panda; Mirror Baby: Hello You!; Little Green World: Ladybird; First Stories: Frog Prince; First Stories: The Wind in the Willows; Listen to the Baby Animals; Bizzy Bear Pizza Time; Where's Mrs Tiger?; Peekaboo Love; Make Tracks: Farm; Hickory Dickory Dock; Five Little Ducks; Love
2. The Toddler Bundle: Worth £194
This bundle includes the following 25 titles: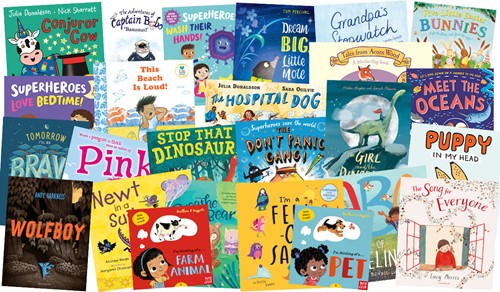 Pink!; Newt in a Suit; The Girl and the Dinosaur; The Song for Everyone; The Don't Panic Gang; Wolfboy (release date 18/2/21); Dream Big, Little Mole!; Five Little Easter Bunnies; Stop that Dinosaur!; Meet the Oceans; Fox's Socks by Julia Donaldson and Axel Scheffler; Conjuror Cow by Julia Donaldson and Nick Sharratt; The Hospital Dog by Julia Donaldson and Sara Ogilvie; Superheroes LOVE Bedtime!; Superheroes Wash Their Hands!; ABC of Feelings; Breathe Like a Bear; Granpa's Stopwatch; I'm a Feel-o-saur; Puppy in my Head; The Beach is Loud; Tomorrow I'll Be Brave; The Adventure of Captain Bobo; I'm thinking of a Farm Animal; I'm thinking of a Pet
3. The Pre-schooler Bundle: Worth £301
This bundle includes the following 30 titles: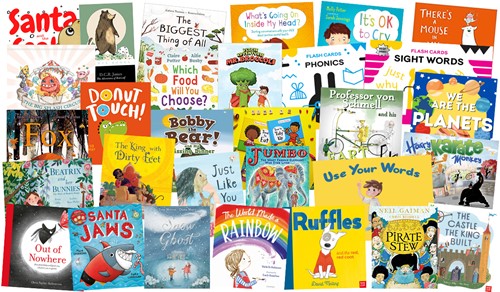 The World Made a Rainbow; Jumbo; Fox; Pirate Stew; Santa Jaws; Snow Ghost; It's OK to Cry; Time to... (Make Friends, Share, Tidy Up and Eat Series); What's Going On Inside My Head?; Which Food Will You Choose; Donut Touch!; The Adventures of Bearwolf; Use Your Words; Bright Sparks Flash Cards - Phonics; Bright Sparls Flash Cards - Sight Words; Harry the Karate Monkey; Bobby the Bear and his Missing Dinner; The Biggest Thing of All; Big Splash Circus; The King with Dirty Feet; Just Like You; Professor Von Schmell and his Fart Powered Bike; We are the Planets; Santa and the Seal; Out of Nowhere; The Castle The King Built; Beatrix and her Bunnies; Ruffles; There's a Mouse in my House; Mr Broccoli
Open entry form in new window
Competition Closes at 30th-May-2021 11:59 PM
Competition Terms and Conditions
The winners will be chosen at random - 1 for each bundle.
Submission of entry will be taken to mean acceptance of these terms and conditions.
The Prize is non-transferable and no cash alternative is available.
If any of the books arrived damaged, or get lost in transit, we regret that they cannot be replaced.
This competition is not open to the employees of Toddle About or their family members.
Toddle About may share your contact details with the competition sponsors.