Win a First Pedal Bike from Frog Bikes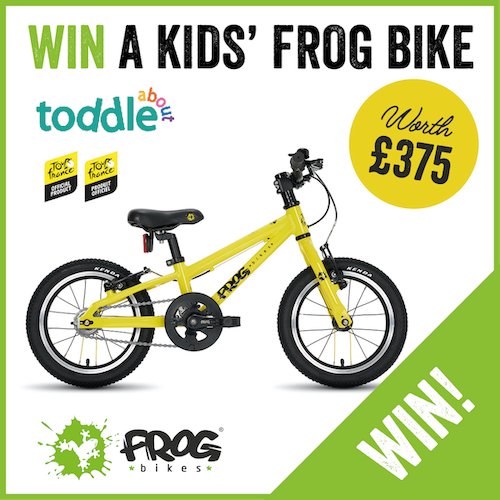 The Prize:
A First Pedal Bike from Frog Bikes, worth £375!
In celebration of Le Tour, we're giving one lucky reader the chance to win a special edition Frog 40 Tour de France™ first pedal bike.
This lightweight bike is easy for early balance bike graduates to manoeuvre, helping them to build confidence in their cycling abilities.
In addition, the small, easy-to-reach brake levers offer better control for young riders, making it an ideal bike for learning to ride.
Find out more about Frog Bikes at www.frogbikes.co.uk
Open entry form in new window
Competition Closes at 29th-Aug-2022 11:59 PM
Competition Terms and Conditions

The Promotion
1. This Promotion (the "Promotion") is organised by Frog Bikes and hosted by Toddle About.
2. The Promotion will run from 09.00 am on the 11th July 2022 (BST) up to and including 11.59 am on the 29th August 2022 (the "Promotional Period").
3. The Promotion is open to all residents of the United Kingdom aged over 18 or with the consent of a parent or guardian aged over 18. Employees and Trustees of Frog Bikes and Toddle About are unable to enter the competition.
Entry Requirements
4. To enter, participants must complete the associated form on the Toddle About website.
The Prize
6. The winning participant ("The Prize Winner") will win a kid's Tour de FranceTM Frog 40, in yellow, suitable for 3-4-year-olds with an average inside leg measurement of 40cm. The winner will be picked at random from qualifying entries. The winner will be shared on the Frog Bikes social pages.
7. The Prize is non-transferable and cannot be exchanged for cash or an alternative prize.
8. The Prize Winner will be chosen and contacted via social media within 7 days of the closing date of 31st August 2022. The Prize Winner will then have 7 days to respond and claim their prize. The Prize Winner must consent that their details will be shared with Frog Bikes and Toddle About to arrange delivery of their bike. If there is no response after 7 days, a new Prize Winner will be chosen and contacted.
Promotional Rights
9. By submitting their entry to The Promotion, participants agree to grant Frog Bikes the right to free reproduction and exhibition of the entry in all media to promote Frog Bikes. The copyright of entry remains with the entrant.
10. Participants may be asked to take part in publicity activities, but their acceptance is not a requirement for the promotion.
11. Submission of an entry will be taken to mean acceptance of these Terms and Conditions.
For queries relating to this Promotion please contact marketing@frogbikes.com
Promotors:
Frog Bikes Ltd, Unit 7-9 Silwood Business Centre, Buckhurst Road, Ascot. SL5 7PW.