Win £100+ of Children's Books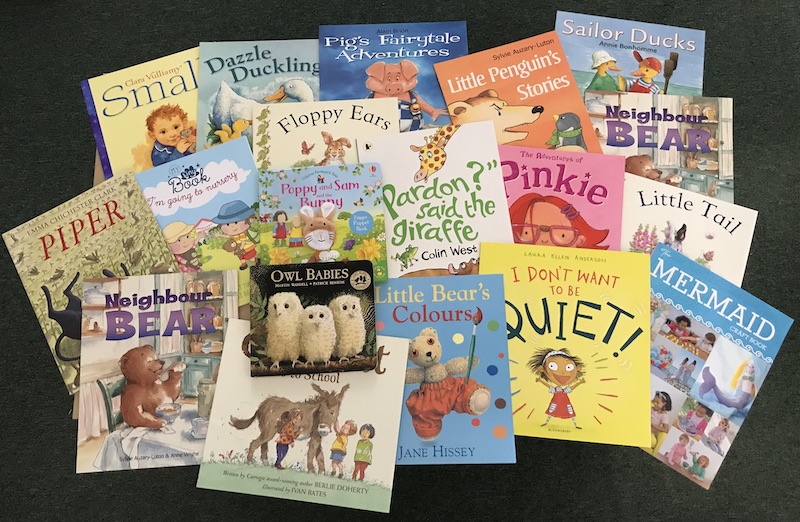 Share Toddle About's new Lockdown Activity Guide on Facebook, and you could win over £100 of children's books.
All these books are up for grabs!
Simply Comment on this Facebook Post announcing the launch of our new Lockdown Activity Guide and we will enter you to win over £100-worth of children's books.
Comment on the Facebook Post
Competition Closes at 14th-Jun-2020 11:55 PM
The Winner will receive all the following books:

Owl Babies Board Book - 25th anniversary edition
A gentle tale of three baby owls reassures young children that Mummy will always come home. Three baby owls, Sarah, Percy and Bill, wake up one night in their hole in a tree to find that their mother has gone. So they sit on a branch and wait... Darkness gathers and the owls grow anxious, wondering when their mother will return. But, at last, she does and they bounce up and down with joy, welcoming her home.

Join Poppy and Sam as they follow their new friend the bunny around Apple Tree Farm in this adorable finger puppet book. Push your finger through the hole to bring the bunny to life and make simple actions from sniffing the flowers to nibbling a carrot. With charming illustrations, and of course, the little yellow duck to spot on every page.

"Pardon?" Said the Giraffe
Join the jungle fun in this series of delightfully simple and surprising tales for early readers. The frog wants to know what it's like up where the giraffe is, but the giraffe can't hear what the frog is saying. So the frog jumps higher and higher and higher ... onto the lion, the hippo, the elephant...

Little Penguin's Stories
'Help! There's a bear!' shouts Little Penguon. But it's not true. One day Little Penguin finds out why it's better to tell the truth.

The Adventures of Pinkie
A fabulously feisty pink-mad tomboy, Pinkie is the perfect antidote to the traditional sweet girlie and wholesome heroines. She lives with her mum and dad in a stripey lighthouse by the sea, has lots of friends and loves to visit the Grampies down the hill. Pinkie loves to re-use things (especially PINK things) and create her own fun and adventures!

Little Tail
Floppy Ears has a new little rabbit friend, Little Tail, to play with, and big sister Twitchy Nose feels a bit left out. Then Floppy Ears and Little Tail decide they're not friends after all - and Twitchy Nose finds a wonderful way to bring them together again. The warmth and charm of the story, and the clever way it deals with an experience that all small children go through, makes this a most appealing second book about Floppy Ears.

The Mermaid Craft Book
Cut, stick, sew and paint your way into a magical underwater world. Containing 15 fantastic mermaid-themed projects to make, The Mermaid Craft Book will get children crafting and creating in no time. Aimed at boys and girls aged 3+, all of the projects can be made either from readily available items or from easy-to-source materials, and grown-ups need little or no crafting experience to help! Projects include a clam-shell jewellery box, a mermaid blanket and a shell necklace.

I Don't Want to be Quiet!
From the excellent Laura Ellen Anderson, this is a very funny picture book about taking notice of the quieter things in life. Making noise is a LOT of fun . but what happens when you take the time to really listen to your world around you? Perfect for little people who love banging and popping, and whizzing and fizzing. Laura Ellen Anderson is the author/illustrator of the internationally successful I Don't Want Curly Hair and the bestselling Amelia Fang series.

Pig's Fairytale Adventures
Pig lives on a lovely farm, but he isn't happy. He dreams of a life of adventure. But when he comes across a strange old man, he finds himself transported to a crazy land of fairy tales.
 And lots more...