Toddle About's Big Birthday Shout Out - Win a £100 Gift Card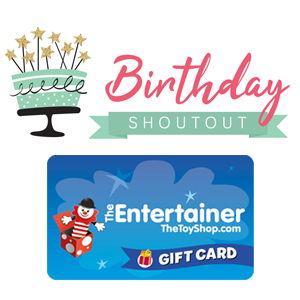 If your child's birthday falls in April, May or June, simply send us a picture of them using the form below, and we will pop their picture in the next Toddle About magazine to wish them a happy birthday!
We will also put every birthday boy or girl's name in a hat and one child will win a special birthday present - a £100 Gift Card at The Entertainer Toy Shop to help you celebrate your little one's big day.
All entries will also be shared on our Facebook Page.
THE PRIZE: A £100 Gift Card for The Entertainer Toy Shop which can be used online or in-store.
The Entertainer Ltd. is the UK's largest independent toy retailer, which operates 170 stores. The company was founded by the husband and wife team Catherine and Gary Grant in 1981, when they purchased a local toy shop in Amersham, Buckinghamshire. The Entertainer's vision is that every childhood should be filled with wonder. Their mission is to be the best-loved toyshop - one child, one community at a time.
ENTER NOW
Competition Closes at 02nd-Mar-2020 12:00 AM