Read More Reviews
Toddle About's Visit to Thomas Land at Drayton Manor Park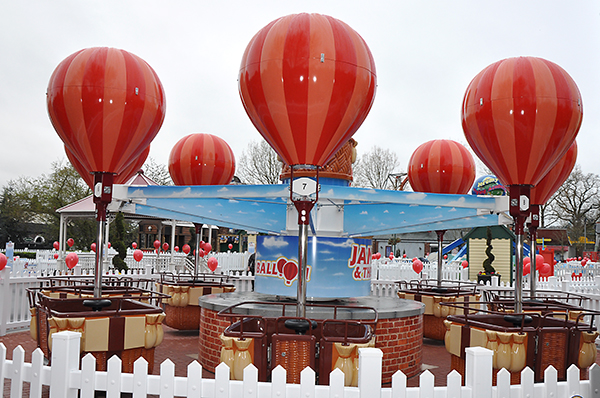 James and the Red Balloon Ride is the new edition to Thomas Land
All aboard! The Toddle About Team were all delighted to be invited to Drayton Manor Park in Tamworth on their opening weekend for 2017 to witness the launch of the new ride, James and the Red Balloon in Thomas Land.
All four members of staff and their families were super excited to visit Drayton Manor, with two of the youngest members, both 2 ½ years old, asking daily when they were going to Thomas Land, when the day did eventually arrive,
you could not wipe the smiles off their little faces and they looked like they could just
 burst with excitement.
Upon walking through the gates into Drayton Manor, Thomas Land is one of the first areas you see, as you enter it's like you turn back into a child again yourself, you get a feeling of excitement as you wonder which one of the attractions on the Island of Sodor will be your first one of the day. 
There are
a whole host of rides and attractions for the young (and the young at heart)
to enjoy including Bertie Bus, Cranky's Tower Drop, Flynn's Fire Rescue, Lady's Carousel, Harold's Helicopter Tours and Troublesome Trucks Runaway Coaster, plus many more.
The new James and the Red Balloon ride is the great new addition to Thomas Land and is a ride 
suitable for all ages. Families sit in their own little red balloon which rises up into the air and then back down again, whilst all the time you are in control of the the wheel that is in the centre of the basket, which you can spin if you wish to go faster.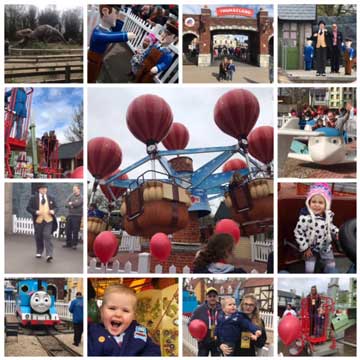 Thomas Land at Drayton Manor Park, what a great day out we all had
There is also, so much outside of Thomas Land to enjoy
, y
ou can take a lovely little train ride in either Thomas, Percy or Rosie which takes you to another part of the park where you will find the Thomas & Friends Exhibition, Spencer's Outdoor Adventure Play Park and a Dino Trail, then when you have finished enjoying those, take a walk around the Zoo, Reptile Centre and finish off seeing the cheeky Meerkats before walking into the main park of Drayton Manor, where you can find a whole array of 
adrenalin-filled rides for the more daring thrill seekers, which some of the team, both young and old, were brave enough to par-take in.
Every member off staff encountered, apart from being very knowledgeable, were all very friendly and welcoming and the little ones especially loved 'high fiving' the train driver as they stepped off of the train, the whole park was absolutely spotless and there are plenty of food outlets and a wide range of other facilities.
All in all, we had a fabulous day out and are already looking at arranging our return visit.
www.draytonmanor.co.uk/thomas-land