Read More Reviews
Review: What on Earth Books: ZOOM Ocean Adventure and ZOOM Space Adventure, worth £10.99 each
Review by VIP Club Member Heather Hulbert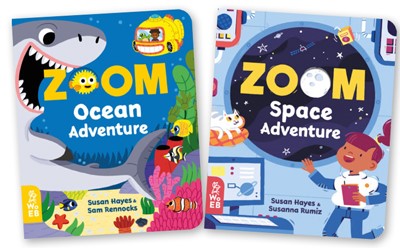 Product Information
Join Ava as she blasts into space and Noah as he dives into the ocean in this new board book series that sends young readers off on an exciting adventure! With die-cuts throughout, a surprise pop-up and plenty of colourful characters, every page is a fun and interactive experience.
ZOOM: Ocean Adventure - Dive into adventure! Join Noah as he visits Earth's most mysterious environment – the ocean. Come face to face with a Great White Shark, join dazzling fish on a coral reef, and discover your very own pirate treasure. 
ZOOM: Ocean Adventure - Blast off to adventure! Join Ava as she explores the furthest reaches of the solar system and beyond. Take a ride in a moon buggy, discover a Mars rover looking for life, and watch the greatest show in outer space – a supernova explosion. 
Available to buy from What on Earth Books
Review
Our daughter is 20 months and loved the artwork in these books. Simple in style and brightly coloured, but with lots of detail and hidden things to spot. The stories themselves are lovely, very engaging and beautifully capture how a child's imagination works as you realise by the end that the things Ava and Noah discover on their adventures were all hidden in their bedrooms. 
ZOOM Space Adventure is a story about Ava, who travels into space with her little white cat. She delivers supplies to the Space Station, goes on a spacewalk, and travels around the solar system before returning home in time for tea. The pages are beautifully designed, with some shaped as the numbers of the countdown to blast off, and a lovely pop up of an exploding supernova. 
ZOOM Ocean Adventure follows Noah as he travels to the very depths of the ocean, exploring everything from coral reefs to the Antarctic. The artwork shows all manner of sea creatures (all labelled to help us parents answer those inquisitive minds' constant questions!); our daughter loved spotting the different animals she recognised, and learning the names of those she didn't already know. 
We loved the artwork in these books, which really drew our daughter in and engaged her to the point that we read the books alternately on repeat for half an hour. The characters are ethnically diverse with a great gender balance, giving the young readers a really positive representation of our world that is often lacking in children's books. Our daughter is still a little young to appreciate the stories themselves, so I would say they're most suitable from around 2 to 2.5 upwards. They are wonderfully detailed but still full of fun, and we're now excitedly waiting publication of ZOOM Dinosaur Adventure in 2021.