Read More Reviews
Review: VTech KidiZoom PrintCam, worth £60
Review by VIP Club Member Monica White Peralta
At first sight, the VTech KidiZoom PrintCam looks great, even in its nice see-through box you can see that it's a great product: lively red and white colours, funky pattern and chunky body.
It was very easy to take out of the box, you do need a screw driver to detach the camera from the hard plastic base. The camera was just wrapped around by cardboard which is great; no extra polluting plastic (bag or Styrofoam) to dispose of. I found this particularly very welcoming as environmental concerns often drive our consumerism options.
Upon opening, my daughter was particularly excited. We were both fascinated by the camera. It had already battery life so we knew we could use it straight away. The instructions were so simple, we knew it would be easy to use. I put the paper roll in its place, again, super easy to do. My daughter literally took the camera off my hands as she was so keen to use it!
We turned it on and were nicely surprised by the funny sounds the buttons make when pressed. The sounds can be turned all the way down easily. The buttons themselves are very cute and the icons on them make their functions self-explanatory. The camera has so many fun features but my daughter went straight to taking funny photos of us, especially with the filters that alter your appearance! Also, the comic strip style which she printed out straight away. We loved the lens that can flip over to take selfies, but the camera also has zoom and a timer and can also take videos and panoramic photos! All this on a child's camera!! And of course, the printing! At the touch of a button, we had a cute picture printed out straight away and on it went on the fridge door. The prints do come out a bit dark so the pictures have to be quite light. To be fair, it's only thermal paper and no ink, so you wouldn't expect hight quality print…but it's just for fun so, perfect! The prints can also be coloured in with pencils or felt tip pens.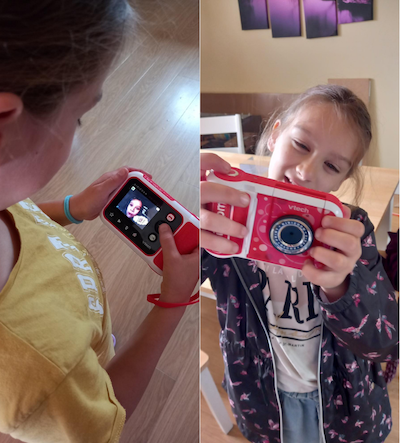 The camera comes with a USB cable so you can easily charge it on the wall or on your computer, so the photos and videos can also be downloaded. Immediately after plugging the USB, it went straight on download on Dropbox on my laptop, so easy!! The downloaded pictures and videos looked good and can obviously be printed too, at better quality that the camera's print option. And the battery lasts forever! 
There's not much more I can praise about this amazing fun camera. After about a month of use, my daughter is still using it daily and she's very keen to take it with her on holiday or at playdates with friends, to take fun pictures.
If I had to mention anything negative, it would be that the camera would only be used by children between 5 and 10 years old (it's already marked 5+). I doubt older children would choose this camera over a mobile phone (which many are getting by this age) as you have an infinite number of apps on a phone compared to this camera. My 15-year-old son also had a go on this camera and he, sadly, quickly lost interest.
In summary, I think the VTech KidiZoom is an amazing camera for young children: it's fun, nice looking, safe and easy to use. It has so many features I believe it would make a great birthday or Christmas gift, as it doesn't require much extra expense (no batteries, not ink, cheap thermal paper). I also think it's a great tool for creative minds and early use of technology.
And my daughter approves by saying "this is the funnest thing in the world"
Available to buy from Smyths