Read More Reviews
Review: Turing Tumble - Build a Marble-Powered Computer
Product Overview:
The Turing Tumble is game / puzzle / brain-teaser / educational tool that teaches your child (and you!) how computers work and introduces you to the building blocks of coding. And all without any batteries or screens!
Through a clever marble-run style 'computer' board, you are set challenges of increasing difficulty, where you use different 'switches' to direct the path of the marble balls and create different outcomes or results.
RRP. £67.92
Short Review: 
The Turing Tumble is truly an ingenious toy which demonstrates just how computers can do all the amazing things they do with simple 0s and 1s.
It's a really fun set of brain-teasing puzzles of increasing difficulty that really engages children and adults of all ages. With a story that brings the puzzles to life and catches the imagination, the Turing Tumble develops problem solving and an understanding of how computers and coding works.
We think it is amazing!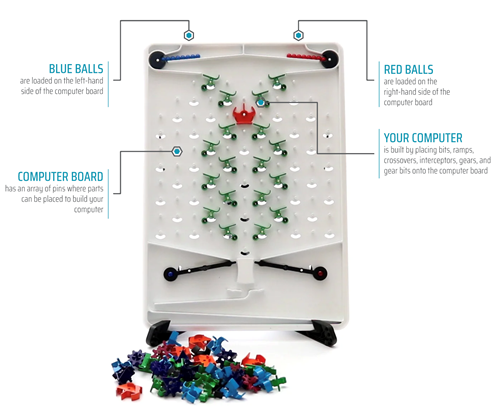 Full Review
We were so excited to have the opportunity to review the Turing Tumble, as at first glance it looked like a combination of a marble run, logic puzzle and a way to learn about coding skills. What a great idea!
We were not disappointed when it arrived, the box was very big and looked very cool and our children (10, 11 and 13 years) were eager to investigate what it was! 
The first task was to assemble the marble run board, which was much bigger than I'd expected, and was easy to put together, partly due to the clear instructions, and also as it was pretty easy and straightforward.
Next we got started with the instructions booklet. The challenges are presented as part of a story, in a comic book style, which made it immediately appealing to our children. So, we read the first part of the comic book adventure which was an introduction to the Turing Tumble, and after a few pages we were presented with our first challenge.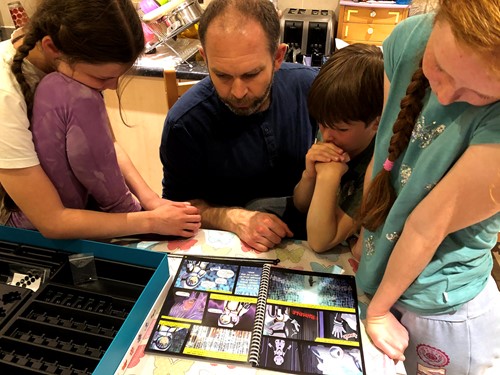 Straight away we were so impressed by the simplicity of the design of the Turing Tumble, and at how well it all works. We were mesmerised by watching the balls tumble down off each lever, and how each ball then activates the next ball to start, it's almost hypnotic and quite satisfying watching the balls make their way down their path on the board! 
We quickly made our way through the first four puzzles and our children were keen to continue, though the puzzles quickly got more challenging and really made us use our logical thinking and problem solving skills! I really like the way the instruction book continues to intersperse the comic style story with the challenges as you work through, with the end goal of helping Alia fix her ship so she can escape from the planet Eniac and get back home to Earth.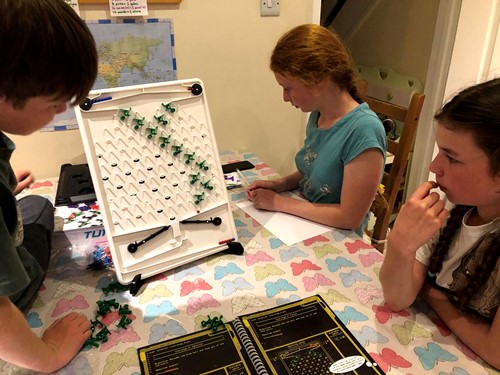 There are six different parts that can be placed on the board to solve the challenges: ramps, crossovers, bits, interceptors, gears and gear bits. Each one influences the ball's path down the board in a different way. As you work through the comic book, the puzzles slowly increase in difficulty and also gradually introduce each new piece and what that piece does. Each time you solve the next puzzle, you learn to do something slightly more tricky, so you are learning without really realising! Our children have also enjoyed just playing with the pieces and making their own marble runs, to investigate how the different pieces work.
I would highly recommend the Turing Tumble for any children who are interested in how things work, who enjoy solving logic problems, or who want to learn about how binary computer programming works in a fun and hands on way! I really think all children would benefit from having a play with one of these, as you really do learn and develop your logical thinking whilst tinkering with it! It would be a great resource to have in a school or for home educators. The Turing Tumble says it's for ages 8 years to adult and I can see that it could quickly get challenging even for older children and adults.
Oh, and finally we also love the fact that the Turing Tumble requires no batteries or screens!
-------------------------------------
Review by Ruth Freed
Find out more about the Turing Tumble and buy from turingtumble.com