Read More Reviews
Review: Stop That Monkey! He Stole Ruby's Ice Lolly Book, worth £6.99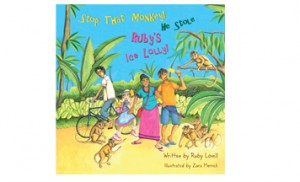 Stop that monkey book Review by VIP Club Member Vicki Webb
Product information
Stop That Monkey! He Stole Ruby's Ice Lolly! is the second instalment in the acclaimed Ruby adventure books series. The vibrant new picture book celebrates diversity, explores the tropical island of Sri Lanka and sparks children's curiosity in other cultures.
Review
This is a beautifully illustrated and heartfelt story book. Over 22 pages the author lovingly details the story of a young girl learning about her heritage. It has some excellent factual detail about Sri Lanka and would suit a child who is reading on their own with growing confidence.
There are some complex words for a young child and a lot of detail for them to digest so a great story to read together. My 14 month old loved the pictures and especially the naughty monkeys but the real heart of this story lies with Sri Lanka and the adoration the author clearly has for it and her family. I am sure as she gets older my daughter will appreciate more about this story book.
Available to buy from Amazon.