Read More Reviews
Review: Songs Across the Pond CD, worth £7.99
Review by VIP Club Member Amy Armstrong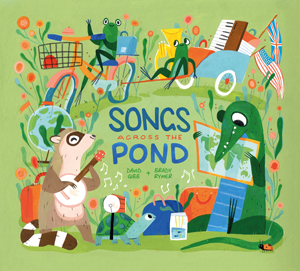 Product Information
A trans-Atlantic adventure through song and friendship, this album is by three-time GRAMMY Nominee BRADY RYMER and UK BBC FOLK Award Nominee DAVID GIBB. Their collaborative album is about making new friends, sharing unexpected discoveries and creating joyful music together.
Available to buy from Amazon
Review

I was very excited to be asked to review the 'Songs Across the Pond' CD by David Gibb and Brady Rymer. I had not heard of these artists before but after receiving the CD I did some research and discovered that both David and Brady are well known in the family music scene and have produced many songs and albums.

Songs Across the Pond is full of fun and catchy songs which I think cater to various ages and even adults can enjoy them. Themes running throughout the album include friendship and having adventures and overall have quite a wholesome message.

My two year old loves dancing to the songs and I think she will continue to enjoy this CD as she grows older. I enjoyed listening to it with her and particularly to my favourite song on the album "Living in A Beatles Song" which references various Beatles songs.

I recommend this CD and give it 5/5 as it is full of catchy sing-a-long songs suitable for the entire family.