Read More Reviews
Review: smarTrike 5 in 1 Recliner Infinity
Review written by Toddle About VIP Club Member, Natalie Collingwood. Our smarTrike 5 in 1 Recliner arrived in a compact box that was easy to carry and not at all as large as I expected, as it was just me at home at the time this was fab as I was able to carry it from the front door through to the dining room with no trouble at all. I was impressed that it was wrapped in a black cellophane and had very little packaging inside the box which was easy to dispose of and meant little waste, my husband is very big on recycling so it meant he was a very happy chap!
I thought I'd try assembling the SmarTrike on my own before my husband got home, (I'm not a keen diy-er!) and found it very simple to do, mostly push and click assembly with a few screws, if you do get lost with all of the pieces there is a very easy and simple to follow pictorial instruction booklet and it also came with a multi tool for easy construction, which is great as you don't have to go hunting in the shed for an alan key or screwdriver! Hooray!! It took me approximately forty minutes to fully assemble the SmarTrike, although this would likely have been a much shorter amount of time had my very excited one year old not insisted on testing every piece of the Trike before I was able to attach it! The only difficulty I experienced on assembly was fitting the safety bar that goes around the front of the seat as it would not initially click into the correct holes. It took a fair amount of wiggling and pushing to ensure it slotted in properly and safely, once in it was perfectly secure. I opted to test the purple SmarTrike as it's my daughters favourite colour, it's a lovely colour, much like a very deep plum, however it was not quite as bright as it appeared on the box, nonetheless my little one was very impressed that it was purple and the fact that it is not overly bright or dominant colour means it can easily be suited to any other accessories.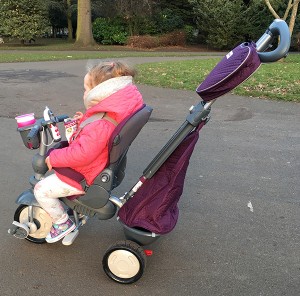 The attachable compartments are a good size and were very useful for when out and about, you won't get a weekly shop in there but nipping to the supermarket for a few bits fit perfectly. We first tested the SmarTrike at the park, a bit of pavement and a bit of off roading in grass to see how it faired, it can feel a little flimsy and on rocky or rougher terrain and it can feel like it's pulling away from you. The fact the smarTrike is so light and has Touch steering means it is easily rectifiable and can be moved back into position safely, and mostly pushed with one hand if needed as it is very responsive to movement. One downside I found with the SmarTrike was the plastic wheels (for the price I expected some form of rubber) which can often slip on concrete and the grips wear down relatively quickly. We have used the SmarTrike in different places to give it an all round test from the park, to the supermarket, dog walking and through the hospital, and have to say it's proven itself time and again to outweigh its negatives and I have been mostly impressed with the smarTrike, it's very useful in day to day life with a small child.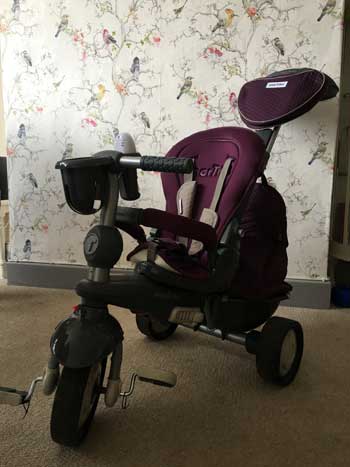 It is compact, easily storable, lightweight and most of all fun for my daughter to sit in. The toy phone is a nice little touch and the pedals will most definitely help influence natural pedaling later on, I was also impressed that you have a choice of a static bar footrest or the use of the pedals which really does show it grows with your child. I would highly recommend the smarTrike to my friends and on social media. As a parent you often look for things to assist you and have a positive impact within your daily life and this is definitely something that has done just that. RRP: £129.99. Stockist: www.smythstoys.com