Read More Reviews
Review: Secret Valley - a family glamping experience in Somerset
I know some people love it, but when it comes to trawling the internet to find a great place to go on holiday, I quickly get bored. If I'm honest, I hate it. So when a friend recommends a place to go, I'm all ears! I love a good recommendation - it saves me hours of tedious searching and gets me a better result. Which is why you will start to see us posting reviews on the Toddle About blog. Hopefully you will find our recommendations (and warnings) useful. So… to our first review: Glamping at Secret Valley in Somerset.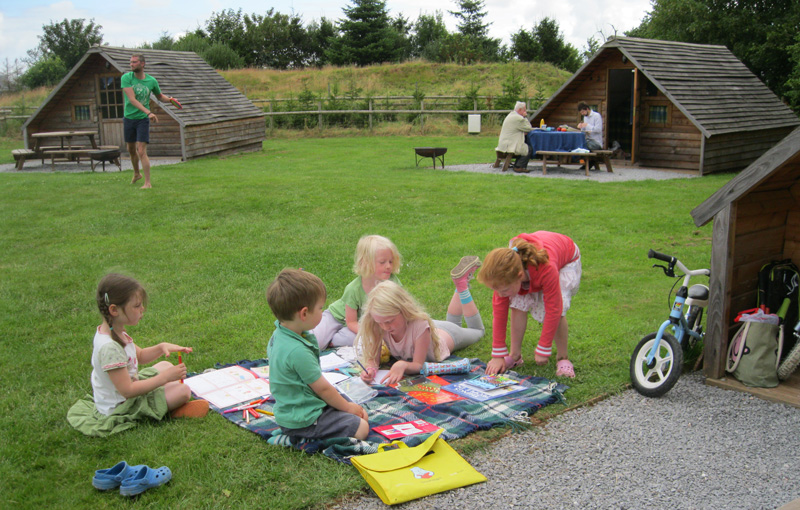 Relaxing on the glampsite at Secret Valley in Somerset
Highlights:
8 out of 10 - we recommend! Pros: 4 different glamping options; beautiful, rural location; good facilities; clean and plentiful toilets/showers; very friendly and helpful owners; things to do on site; day trips within easy drive Cons: They charge per person, so can get expensive for larger families in peak season Website: http://www.secret-valley.co.uk/ Location: Cobbs Cross Farm, Bridgwater, Somerset, TA5 2DN  
Full Review:
The Site The Secret Valley certainly lives up to its name. Hidden in the Quantock Hills, an Area of Outstanding Natural Beauty, and accessible only via narrow, winding country roads, it's not a place you're going to stumble upon by accident. For me, this is a massive plus. When I go on holiday, I want to get away from it all to a place where we can let the children 'off the leash' - a site next to a busy road doesn't work for me. The glamping site at Secret Valley is actually a small part of a much larger 400 acre working farm - Cobbs Cross Farm. The totally organic, mixed farm mainly produces potatoes, but also rears free range chickens and has a herd of 180 cattle. In addition to this, they grow Christmas trees (20 acres) and vineyards (5 acres), the grapes from are locally produced into very drinkable wines. It is possible to wander around a fair bit of the farm on your own, and Farmer John also offers trailer-back tours of the farm (£12 per adult, £6 per child) - though this is dependent on him being free from farm duties. We went mid-week and Farmer John wasn't available for tours when we were there.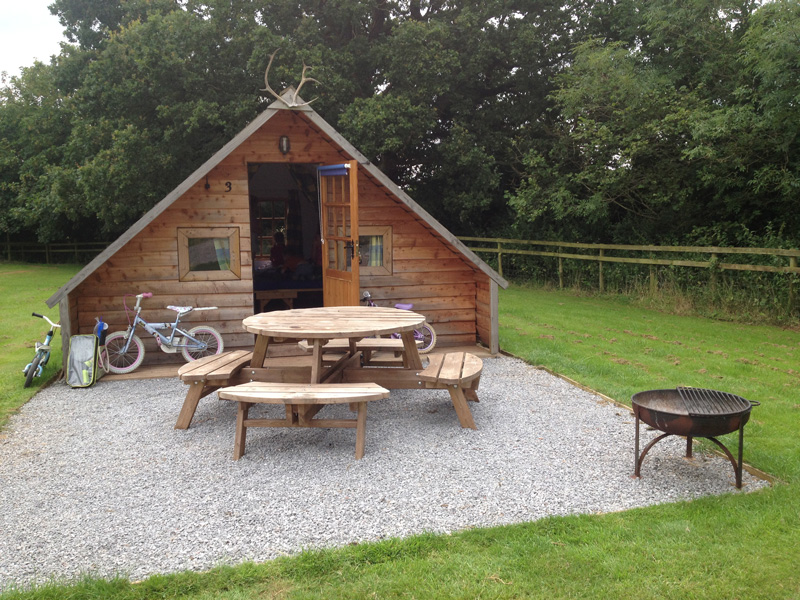 Each Reindeer Lodge has its own picnic table and fire pit / BBQ   The Accommodation When considering where to stay, you have four glamping choices - Wigwams, Teepees, Yurts and Reindeer Lodges. The Reindeer Lodges and Wigwams are very similar - purpose-built wooden huts with electricity and basic white goods, including kettle, toaster, microwave and fridge. The Yurts and Teepees in contract are large fabric 'tents', built on wooden frames, with futons, rugs and candle lanterns to make them comfortable. We stayed in the Reindeer Lodges. The three Reindeer Lodges are so-called because they sit in their own field, away from the other accommodation (the 12 wigwams all share one large field) right next to a field of reindeer. The lodges are also adjacent to an enclosure of hens and a field containing two rheas (emu-like South American birds), which was really lovely for the children. The secluded location of the Reindeer Lodge field was perfect for us as we were holidaying with two other families who booked the other two lodges with us. It felt like our own private field! We were really pleased with the lodges themselves. Inside there is a sofa/table set up that you convert into a large sleeping area, easily big enough for our family (2 adults and 3 children aged 3 - 6 years). You need to bring your own bedding, so we all slept in our sleeping bags next to each other - which was a fun treat for the children, though I did wake up every morning at 5am as our 3 year-old (for some reason) came into a light sleep and started kicking me in the face!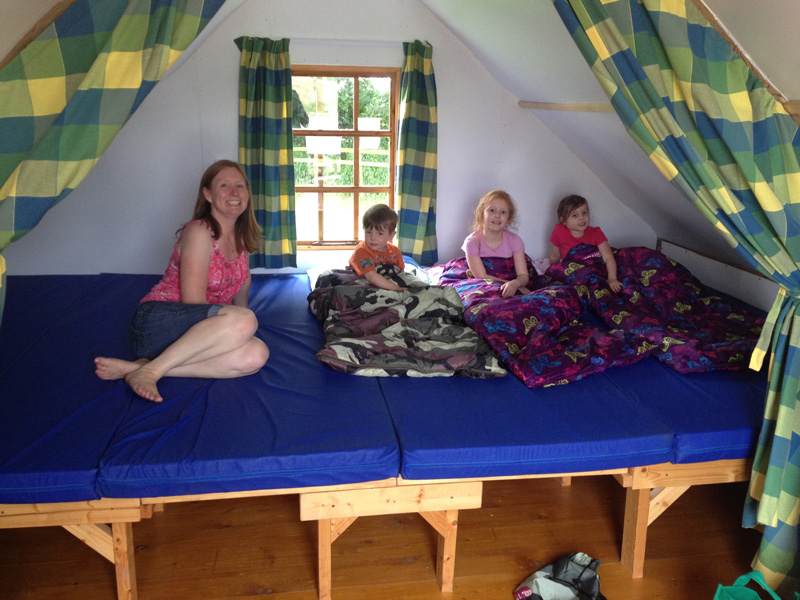 The sleeping area is one big bed, with plenty of space for 2 adults and 3 children. The weather was just amazing during our visit, so we spent all week outside and the lodges are well set up to make the most of good weather. Each hut has its own solid, round picnic table, big enough to seat 6, and its own fire pit/barbeque. Secret Valley do have a list of local restaurants on their website, and there is a communal kitchen you can use to cook meals, but we did all our cooking on the fire. It made our clothes smell smokey, but we loved it!   The Facilities Our field had its own toilet in a wooden hut (which was very handy) and the communal area was well thought out. The all-important shower/toilet block houses perhaps 10 showers and enough toilets that there is never a queue. They were all kept clean during our stay and the showers had good water pressure and nice hot water, so we were happy with that! The communal kitchen is well-made, in a permanent building. It wouldn't be big enough if everyone wanted to cook at the same time, but that never seemed to happen. Adjoining the kitchen is a large dining room, plenty big enough for everyone to sit and eat comfortably.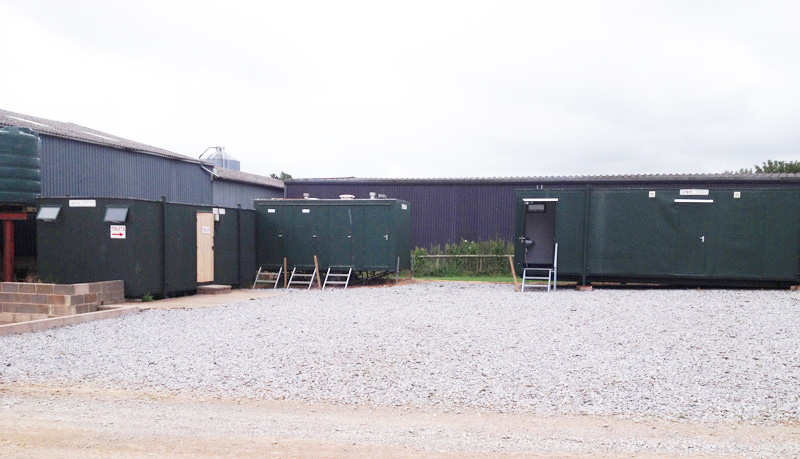 They don't look like much, but the toilet and shower block (pictured here) was always clean, and had great water pressure - and lovely hot showers!   Things to do Aside from looking at the animals, you can wander round the farm and the trip down to the fishing lake is a nice walk and a good picnic spot. There is also a large barn that our children referred to as the tractor barn - full of ride on tractors (and a table tennis table), the children loved racing around in there while we cooked dinner or washed up.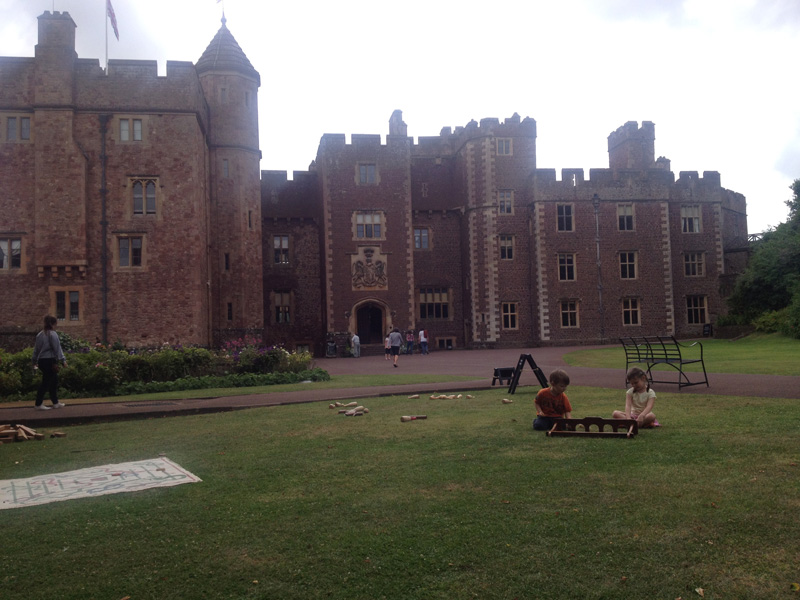 Dunster Castle is on 30 minutes drive away and is a really lovely day out. For day trips, we went to nearby National Trust property Fyne Court one afternoon and we spent another day at Dunster Castle, whilst our friends went off to Glastonbury Tor and Wookey Hole Caves. The final day, we took the 80 minute steam engine trip with West Somerset Railway to Minehead beach. All in all, there are plenty of day trips to enjoy, no matter how old your children are.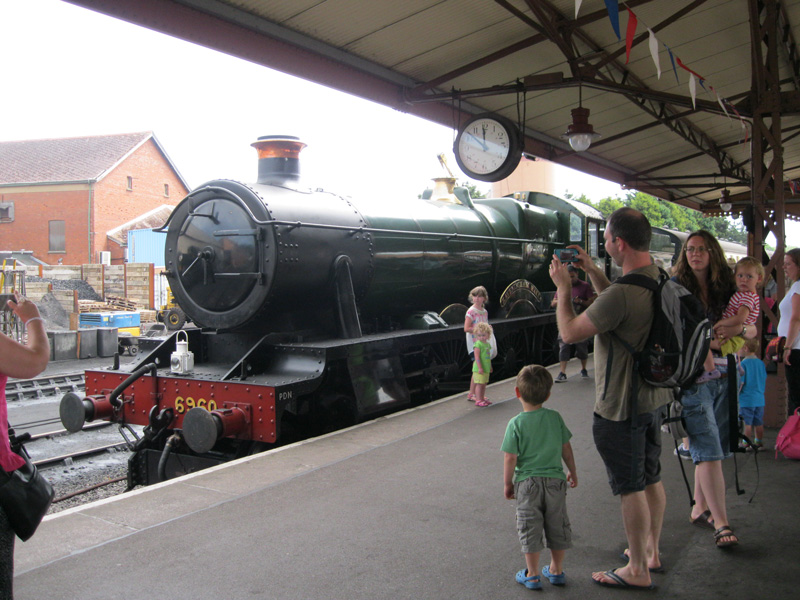 The steam train journey to the beach at Minehead with the West Somerset Railway is a must for any fan of Thomas the Tank Engine :-) In Conclusion... This is a lovely holiday site, in a lovely part of the country. If you are looking for a relaxing break, away from it all and close to nature, then Secret Valley is definitely worth considering. For availability, pricing and more information, visit www.secret-valley.co.uk.