Read More Reviews
REVIEW; Roro Lulla Doll, worth £49.99

Review written by 
Toddle About VIP Club
 member, Ceri McCullam. I'm mum to Joshua who is 4 years old. We were asked to review the Lulla Doll which is a sleep companion for preemies, babies and toddlers.
The doll imitates closeness to a caregiver at sleep time
with its soft feel of natural cotton and soothing sounds of real-life breathing and heartbeat. The heartbeat sounds when the doll is turned onto play for 8 hours and then it turns off automatically. The doll can also be an outside the cot attachment with the Velcro straps that are hidden in a pocket on the back and it
can easily be attached to the cot, bed or car seat
.  The sound box is removable and the doll is machine washable. The doll is neutral in look and colour so it's
suitable for all children
regardless of gender and race. When we received the item and I gave it to Joshua his first reaction was "dolls are for girls" but he cuddled up to it in bed that night. I would have to say it looks like a typical doll just with a blue head perhaps to make it more appealing to boys. I'm a little surprised they market this item at toddlers as whilst Joshua likes an array of teddy's in his bed, at 4 years old he doesn't need a sleep companion that makes heartbeat sounds like that of a younger baby would. I think
for a younger baby it has some good features
and the heartbeat sounds are realistic, a nice plus that it turns off automatically and the sound box is removable to make it washable. In summary I feel this item is best marketed at babies but Joshua has enjoyed the addition to his bedtime bears.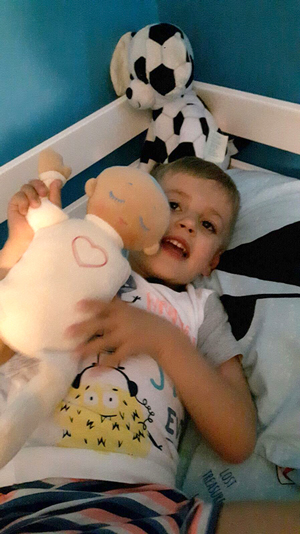 Stockist:
John Lewis
, Kiddicare and Mothercare