Read More Reviews
Review: Return to North Hayne Farm Cottages, North Devon
Review by Tim Freed, Editor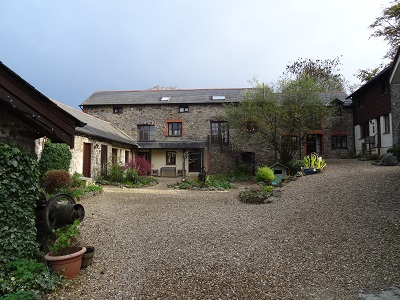 North Hayne Holiday Cottages - 7 different cottages are situated around the central courtyard, all named after Peter Rabbit charactersThe lights were on, it was toasty warm and, as I walked into Squirrel Nutkin cottage, it seemed that all the tension in my body just dissipated… it felt as if we had come home. It was a comment echoed by a couple of the other families staying at North Hayne Farm Cottages at the same time as us – and one of them was on their 5th visit! Which begs the question – why is this place so special? We first stayed at these delightful holiday cottages in October 2014, and we absolutely loved our visit. We are not the kind of family that typically returns to the same place to holiday each year - we tend to prefer new experiences and new places - but this place has something about it.
A week before the holiday, someone asked our children where they were going. The reply was instant; "Cheryl and Rogers!" "Oh," said our friend, slightly confused, "You're visiting friends?" Which turned out to be a hard question to answer. You see, Cheryl and Roger own the farm, so on the surface our relationship is transactional – we pay them for our holiday. But they are such lovely people and they care so genuinely about your holiday, and are such a part of it, that I really do feel like they have become friends.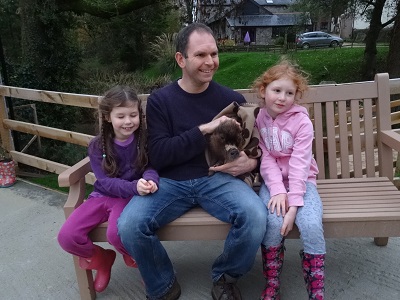 Tim enjoying pig cuddles! The children can enjoy animal feeding twice a day, with special animal petting/grooming/handling activities each afternoon as well. Another 'something' that makes this place special is the children's farm they have built on site, with bunnies, guinea pigs, chipmunks, pigs, sheep, alpaca, goats, ducks and ponies. The children are invited to feed the animals twice a day at set times – and they have a donkey ride every morning! From the way they stampede out the door of the cottage in the morning, I don't think there's a better way for a child to start their day. This regular animal feeding does something else as well as entertaining the children though – it brings all the visiting families together. You end up chatting and getting to know the other guests – and your hosts - in a way that I haven't experienced on any other holiday. The camaraderie that develops between you and the other guests enhances the whole experience in a hard-to-explain way.
Every morning the children can enjoy a free donkey ride in the purpose-built, dedicated walk area next to the stables Both times we have visited now the children have hit it off and made firm friends, and Cheryl is great at making introductions to help that happen. Every cottage has its own hot tub, which is a lovely touch, and this year we enjoyed a family dip after it got dark in the evening. It was then that we discovered that Exmoor National Park, where the farm is located, is an official Dark Sky Reserve – and we were in for a real treat that evening… Watching shooting stars fly across the autumn sky from the warmth of a hot tub in such an idyllic setting is a memory we will all treasure for a long time to come. Some things had changed this year – but all for the better, I'm pleased to report. In particular, the children's farm has been upgraded to a larger, properly concreted area with brand new, purpose-built barns, and a dedicated walk area for the donkeys. It was opened by the mayor and is a really excellent development. But the things that make this place so truly fabulous haven't changed a bit and, despite our penchant for new experiences, I have a feeling that our annual holiday to 'Cheryl and Rogers' has become a new family tradition.      
---
North Hayne Farm Cottages take bookings all year round, and host special activities for events such as Christmas, Easter and Halloween. 7 night breaks start from £361, 4 night breaks from £253. Visit www.northhaynefarmcottages.co.uk for full details. Contact Cheryl & Roger for availability on 01769 550807 or info@northhaynefarmcottages.co.uk.