Read More Reviews
REVIEW: Quinny Yezz Stroller, £175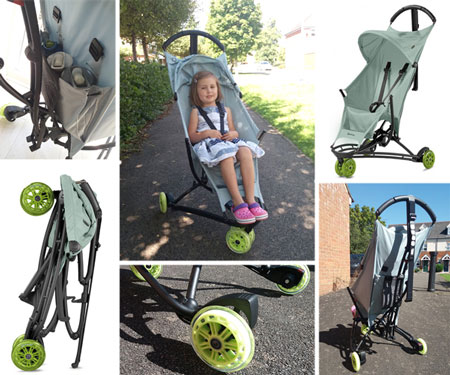 Written by Eloise from the Toddle About Team.
After my daughter learnt to walk, she never wanted to go back into her travel-system pushchair. She was rather insistent on walking whenever we went out, just like her big brother, talk about Miss Independent! This sounds great, but after a short walk, her little legs would get tired and she'd stop in her tracks and demand to be carried, this wasn't an option!
Because of this, I started looking around for a stroller pushchair that was compact and light that we could take with us every time we went out. I was impressed with the Quinny Yezz after reading about it whilst running a competition for Quinny in our Toddle About magazine, it ticked all the boxes and more so I decided to purchase a Yezz for myself and I have never looked back.
Having a 9 year old son, I've had various pushchairs and strollers over the years, but the Quinny Yezz has blown the socks off them all. I was really impressed with how lightweight the stroller is. The scooter style wheels make it easy to manoeuvre around - it can be controlled with just one finger! and it collapses down with just the push of a button and foot control.
It's so light weight and small you can take it out for the day and wear it over your shoulder. This is really useful when having to deal with steps, I was able to carry my daughter and pushchair at the same time and still have a free hand.
A great benefit of the Yezz collapsing down so small is that it makes it ideal for going on holiday. When your car is loaded up to the roof, there's still room for this compact pushchair. It can easily be stored lying down or standing up leaving plenty of room indoors as well.
We like to go for a walk most weekends and although my daughter is now 3 years old, we still use the stroller for longer walks when her little legs get tired.  Her Grandma and Nanny also love using it, as its really light for them to push around and it also boasts a large storage compartment at the back, which can fit plenty of drinks and snacks in for when you are out and about.
I would highly recommend the Quinny Yezz to anyone looking for a lightweight, compact stroller. It's a huge hit in our household and I'll be rather sad when my daughter will no longer have use for it!
Purchase here: http://www.quinny.com/gb-en/