Read More Reviews
Review: Playmobiil 1.2.3 Advent Calendar - Christmas in the Forest, worth £24.99
Review by VIP Club Member Francesca Browning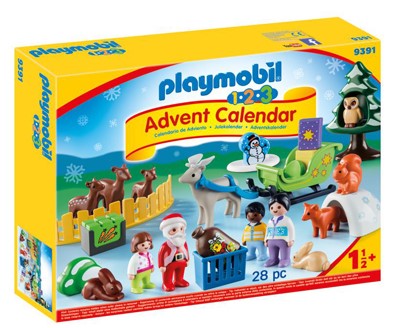 Product Information
Visit Santa and the animals in the magical forest at Christmas. The Playmobil 9391 1.2.3 Advent Calendar - Christmas in the forest features large pieces which are perfect for small hands. The calendar hides different, exciting toys behind each door, ready for you to discover every day on the run-up to Christmas. Among the treats hides Santa, his sleigh and many friendly animals.
Available to buy from Playmobil
Review
As big fans of Playmobil in our house, we were very excited to be able to review the Playmobil 1.2.3 Advent Calendar - Christmas in the Forest.
I've been looking for an advent calendar for my two year old and have struggled to find many that are suitable for this age, so it's fantastic that this one is aimed at children age 18 months and over. It also makes a nice change from a chocolate advent calendar! 
The box is very brightly coloured and appealing, and was bigger than I was expecting. The outer sleeve (which you remove) contains a guide of what you can expect behind each door which is helpful too.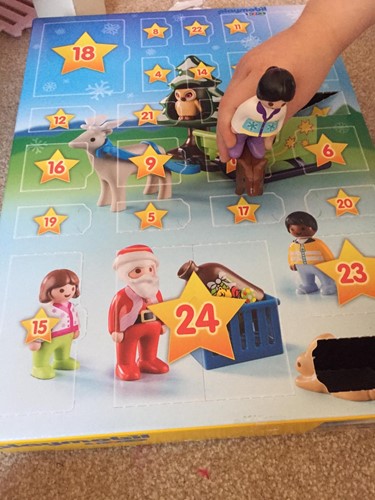 The doors have big numbers on them which are easy to find (and great for practising counting!) and were very easy to open up. Behind each one you get a figure - the ones that are included are on the outside of the box. We've always found Playmobil figures to be really sturdy and good quality. My child loved the small animals (especially the owl that fits into a tree) and all of the figures included are great for imaginative play! Playmobil is fantastic for all ages and while I feel the calendar is aimed at younger children, my five year old also enjoyed coming over to look at the figures and joining in playing with them. 
Some figures are Christmas themed, including a Father Christmas, snowman and a really fun sleigh. However, not all of them are so they can be played with all year round. It's great to have something to keep and that will be played with throughout the year, rather than something that will may be put away after December until the following year. 
Overall, I'm very impressed with the advent calendar, cannot fault it at all and would highly recommend it.