Read More Reviews
Review: Playbrush Smart, worth £24.99
Review by VIP Club Member Elena Conea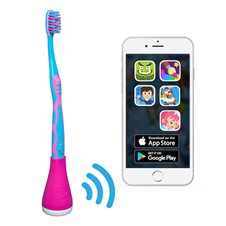 Product Information
Playbrush, as their name suggests is a toothbrush that encourages play. It works via an app to allow a child to fight monsters, play the piano or even paint a picture. The most important thing is that through play, the child brushes longer than average and also the app gets them moving the brush to provide total mouth coverage all whilst playing.
Review
The Signal Playbrush smart comes with a normal Signal brush, a rechargeable base, a charging micro-usb cable and a smartphone holder ( I wouldn't recommend counting on it to hold your phone but rather the toothbrush as is rather flimsy). 
First you have to charge the base. A green constant light will let you know its fully charged. Then you only have to insert the brush into the base. The next step is to install the Playbrush app to which the brush will connect via Bluetooth. You'll have to register and then you're all set. 
You have access to 4 free games but a monthly subscription gives you access to many more. We opted for the free ones in the beginning just to see how things go.
Connectivity can be very fiddly especially in the beginning. Also, in our case the charger would indicate the base is fully charged but the app would prompt us to charge it. So it took a little while to figure out how things work. Not a major issue though.
My daughter enjoyed brushing, but by no means reached the 2 minutes mark that's recommended. So turning the whole process into a game seemed a good incentive. So far she enjoys the unicorn game and likes collecting badges.
I would totally recommend it for the little ones who are not that into brushing. Surely will make life easier for the parents, at least! 
Available to purchase here.