Read More Reviews
Review: Peppa Pig Magicube, worth £13.00
Review by VIP Club Member Emily Nadin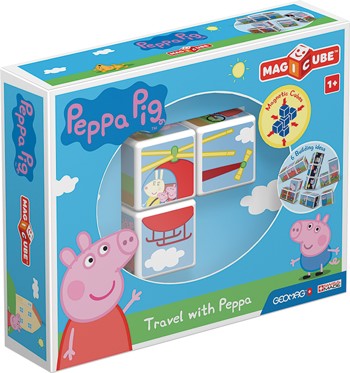 Product Information
Enjoy a delightfully creative learning adventure with the Peppa Pig Magicube sets from GeomagWorld. A cutting edge construction system that turns the concept of traditional building blocks into something extraordinary. Providing a supply of fun activities that reinforce those basic skills and a hands on approach to learning. Connect and build from any side to build iconic Peppa Pig scenes. All of which encourages fine motor skills, spatial reasoning, matching, creativity, experimentation.

Geomagworld has received prestigious recognition for  their new Green strategy, which revamps popular lines such as the Magicube Collection, to use 100% recycled materials, providing lower environmental impact.
Available to buy from Amazon 
Review
We were very happy to receive the Peppa Pig Magicubes for us to review and we played with them straight away.
My girl is 19 months and although she loves to stack them and that they are magnetic, she doesn't understand the puzzle. On the other hand they do also appeal to the older child as my 5 year old niece loved matching up the picture pieces, and also assisted her younger cousin in how to play with them.  She liked the fact they stacked and stayed together because of the magnets! Although we don't use them as a puzzle at present they will grow with her and we will eventually use them as designed!
They are light and easy to play with and the magnets are good but not to storing for little hands. They are also durable as they have been thrown around and survived.
Overall we do like them and they keep my daughter entertained although I am unsure if we would buy any more of them.