Read More Reviews
Review: Pebble Gear 'Cars' Tablet, worth £99.99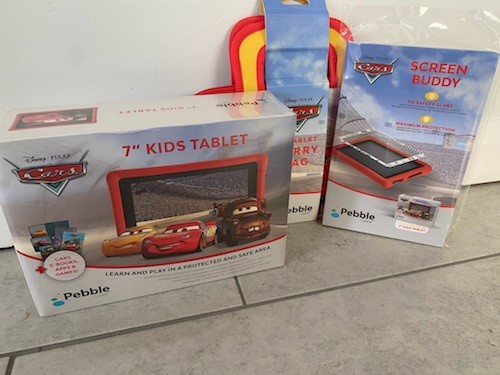 Product Information
The new Pebble Gear Cars Tablet is aimed at 3 to 8-year-olds and is specifically designed to allow children to access digital content safely and securely. Free from in-app purchases and unwanted pop-ups the Pebble Gear Kids' Tablet offer parents complete peace-of-mind. They come fully loaded with oodles of content from the beloved franchise and come with full parental control, access to 500+ games, ebooks & learning apps, all free for the first 12 months. The tablets will also be accompanied by themed carry case and screen protector for extra protection.
Available to buy from Pebble Gear
Review

We were gifted the Disney Cars pebble gear 7 inch tablet along with a screen buddy to give the screen extra protection and a carry bag to keep it safe. My son is 3 years old and is Disney Cars obsessed so I knew he was going to love it. From a parents perspective it was super easy to set up with extremely clear instructions, the usb charging cable came with both a eu and uk wall plug adapter so perfect for holidays. One of the great features is that you have full parental control. You get to set the times you are willing to allow your child to use the pad and the maximum length of time you want them playing on it. This allows you to have clear boundaries on how long they can use the pad. Another great advantage is that there are no in app adverts or purchases. The games are all playable off line so no tantrums when your not near any wifi. The bumper case is very effective as Jasper is extremely clumsy so it was tested to the max and completely protected the pad. The pad offers 4 categories Games, Books, Media and Learning. The pad allows you to set up a profile for your child and if you have more than one child you can set up one for each.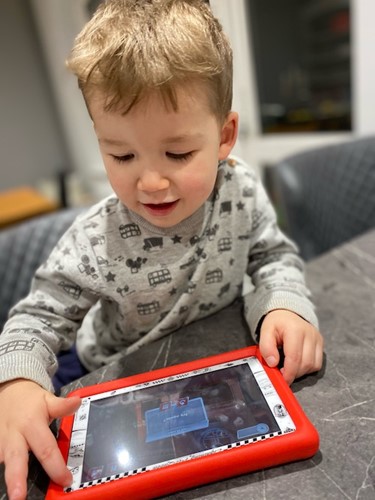 As soon as I gave it to Jasper he couldn't wait to play. The pad came preloaded with Disney Cars games and books. You can then go to the App Store to download more apps. I would recommend setting up the pad and loading any apps you'd think your child would like before giving it to them. Also test out the games so when they ask for help you can assist them. It took a day for jasper to get to grips with the touch screen as he's only 3 and it didn't always register when he was touching the pad. Once he'd figured it out there was no stopping him. His favourite category was actually the learning section where I'd loaded an app that teaches you to trace letters. He loved the colouring apps too. The books category offers you the function of reading books and also listening to them be read to you. Once your child is finished for the day you can log on as the parent and see how much time they've spent on the pad and the proportion of time they've spent on each of the apps.