Read More Reviews
Review: Organix Goodies Bundle, worth over £15.00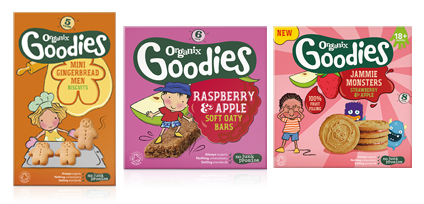 Review written by 
Toddle About VIP Club
 member, Rachel Harris. We were chosen to review the Organix Goodies Bundle which contained Strawberry and Apple Jammie Monsters (suitable for 18mth+), Mini Gingerbread Men Biscuits (suitable for 12mth+) and Raspberry and Apple Soft Oaty Bars (suitable for 12mth+), I have a two children, a daughter aged 3 years and a son aged 8 years and both of them have tried all of these products and here are our thoughts on them:
Mini Gingerbread Men Biscuits:
These were loved by my little girl and were perfect for taking out for snacks on the go. She didn't always manage to eat the whole packet as there was a lot in them but they are a perfect size for little fingers.
Soft Oaty Bars:
These were a great size and my daughter liked them, there were 6 bars in the box which I thought was good and I had a cheeky bite too and they were very tasty.
Jammie Monsters Biscuits:
Unfortunately my daughter didn't like these, I did have a taste of them and thought they were a bit dry. However saying that, my son liked them. We thought that having just one biscuit in a packet was a bit strange too, in my eyes I feel you would need at least 3 in a packet. Overall, we enjoyed reviewing these products and would recommend them all. Find out more about the products here: 
www.organix.com