Read More Reviews
Review: One Dear World (Book & Doll), £19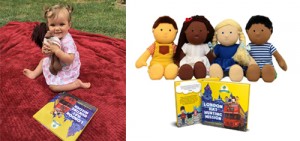 Review written by 
Toddle About VIP Club
 member, Evie Underwood.
I received my 'Hope' doll and book last week and my gosh what a gorgeous product!
The doll is made of fantastic quality and the hair is the best I have ever seen on a doll. I would also like to thank Winnie from One Dear World for the personalised note, that was a very nice touch.
I love the multicultural selection of dolls that are available, it means there's one suitable for everyone and nobody feels left out - also, like me, you could choose a completely different doll to your own race to introduce other races to children at a young age.  Hope has a very friendly face, without it being over the top which is nice as I have found some dolls look too over excited whilst others can look miserable and off putting for children. 
My little brother loves her and insists on carrying her around everywhere we go, which was unexpected for me as he's never paid much attention to toys or dolls before.
The book is great, the font is a nice size and soon I plan on asking him to read it to me as the story behind the book is simple enough for him to understand. Unfortunately my little 
girl is too young to appreciate either the book or Hope yet but I will be keeping them for her to play with and enjoy at a later date.
Thank you again for asking me to review this product, I have already looked at the One Dear World page on social media and have mentioned it to my friends and family to take a look as I have lots of young children in my family that I feel these would be great for. I must also add that having looked at the One Dear World website, the 10% off your first order offer when you register with them is one not to be missed.
Purchase from
One Dear World