Read More Reviews
Another year older and another reason to celebrate. Review of Tadpole Tunes.
Review written by Pia Howe, Toddle About Suffolk
So this year's answer to the question "What would you like to do for your birthday?" wasn't the answer I expected from my 3-year old. I didn't really know what to expect but the likes of 'soft play' or 'bouncy castle' weren't even mentioned.
"Mama, I would like to invite all my friends to my house and show them my room and all my toys".
OK! January. Winter. Cold. Living Room. No space….just a few of the things that went through my head that moment. Every parent wants the best party for their children. So with the 4th birthday of our son approaching, I sat racking my brains what & how. What party could I throw for 12 children in our living room, which was entertaining and exciting? Tadpole Tunes was the answer to my question!
Not all the children were familiar with Tadpole Tunes, neither was our birthday boy, but that didn't matter at all as their parties are custom-made with the birthday family to include requests for songs, puppet and percussion. The structure and style is usually waving, clapping, joining in and bubbles and best of all - our son was able to choose his favourite songs and nursery rhymes.
The children warmed to Angela from Tadpole Tunes straight away and the party started with lots of familiar action songs the children could sing, dance and clap to, followed by a musical instrument of our choice.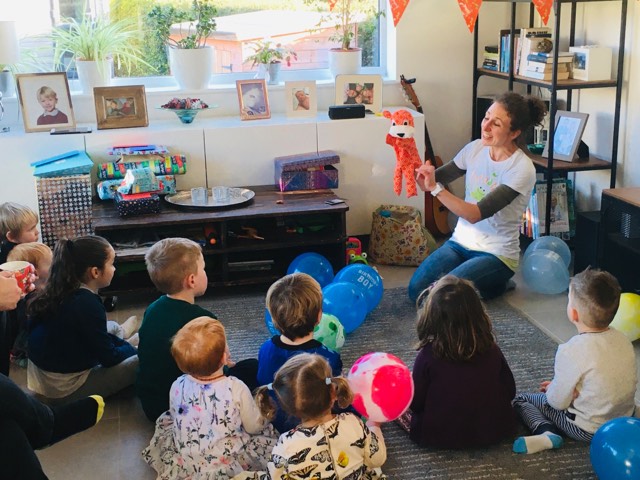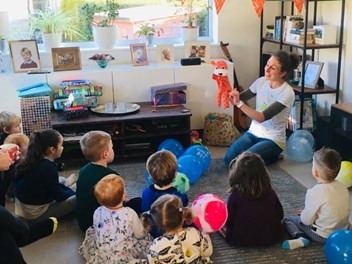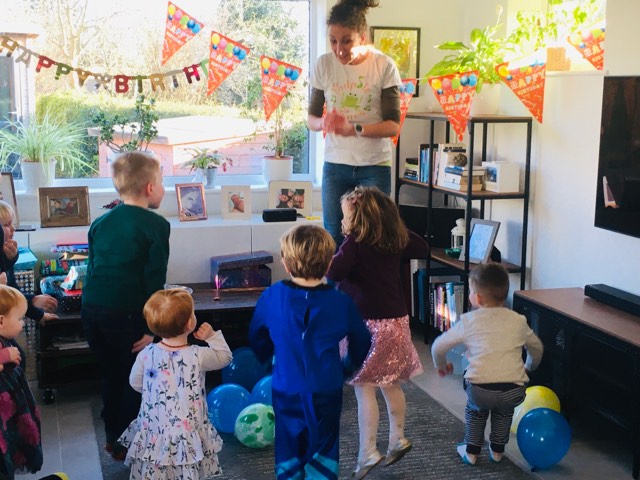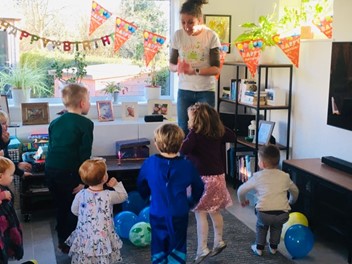 After a 'Happy Birthday' song for our little birthday boy, the party ended with musical box and lots of bubbles. I think the children particularly enjoyed the musical box as they were able to pick an item out of the box, Angela had prepared, and think of a suitable song. So after pulling out all the farm animals we sang 'Old MacDonald' and made some great animal noises!
Angela managed to keep the children entertained and engaged throughout so everyone joined in, supporting the children's early development, gross and fine motor skills, social interaction and early musical skills whilst having fun!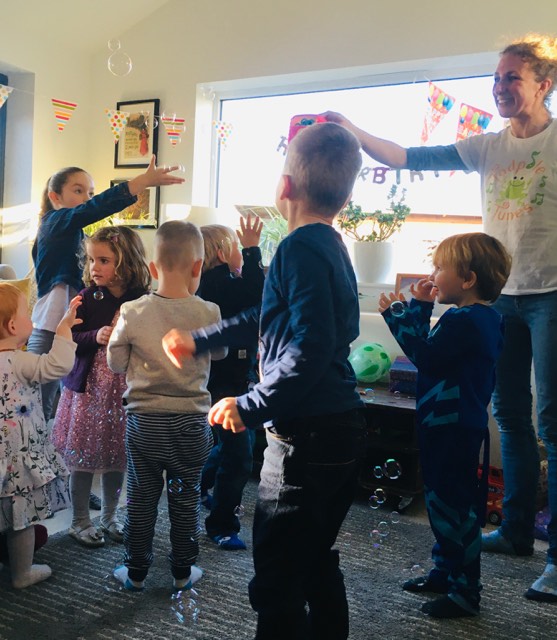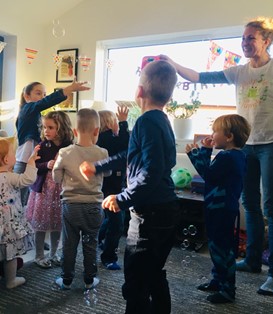 Their party sessions tend to be the usual 25-30 minutes, however a long session including music provided for games could be arranged as well.
If you are looking for a fun and entertaining activity for your child's birthday, Tadpole Tunes comes highly recommended from us.
For more information about Tadpole Tunes birthday parties or to find a class near you, visit https://www.tadpoletunes.co.uk/