Read More Reviews
Review of Dick Whittington at the Royal & Derngate Theatre in Northampton
By Kirsty Unsworth (Toddle About HQ)
WOW! what an experience!
We were delighted to be invited to the pantomime at the Royal & Derngate Theatre in Northampton to see the traditional tale of Dick Whittington, and the whole experience did not disappoint.
Dick Whittington is a classic rags to riches tale…but with a very modern twist, and lots of added humour and comedy along the way too. I do feel that the storyline was only loosely based on the original folk tale that is Dick Whittington, so if it's not a story that you're familiar with then the storyline might leave you a little confused, but the kids didn't seem to notice and thoroughly enjoyed the whole experience.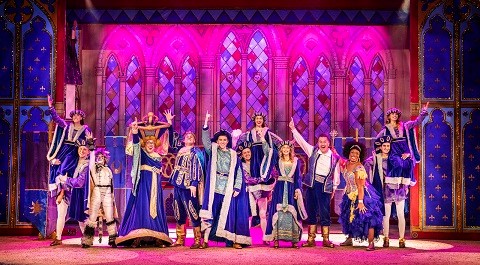 Pamela Raith Photography
The atmosphere was fab, and with a theatre full of excited children (and adults) it would have been very difficult to not get caught up in the buzz (it's good to be back!). I personally love the theatre, but as a family we are new to the world of pantos, mainly because I always felt that my children were at awkward ages to get the full benefit, but this year I decided to brave it with my 2 sons (aged 3.5 and almost 7), and it was genuinely one of the most magical days out that we have had as a family! My eldest fully immersed himself and participated throughout, whereas my youngest was initially a little more reserved, but was utterly captivated from start to finish.
I also couldn't fault the cast and the performance. Each cast member felt like the perfect fit for their role, and both my children were overjoyed to see 'Mister Maker' (AKA Billy) in the flesh, and his quick wit and humour (along with Dame Dolly) kept all of the children and adults thoroughly entertained throughout.... And of course the children all loved to hate the rogue King Rat! The show was the perfect balance between traditional boo-hiss silliness and charm and was jam packed with puns throughout. The cast all bounced off each other perfectly, and the whole thing was so seamlessly done, to the point that I questioned whether some of the impromptu gags were actually scripted (and vice versa). My only reservation was the 'Mister Maker' segment towards the end felt a little out of place… although I know my children would disagree with me here! This was actually the part that my youngest son started participating, and he carried on for the rest of the show.

All in all, it was the perfect feel-good family show, and I urge anyone to go and see it – you won't be disappointed. I can now officially declare that we are a family of pantomime lovers and we cannot wait for the next show!