Read More Reviews
Review of Alcatel 1S 2020 Mobile Smart Phone
Product Description:
The Alcatel 1S 2020 is an Android smartphone that sits at the top of the brand's most affordable range of handsets. Facial recognition and a fingerprint sensor unlock its 6.22in display. Its 32GB of storage can be expanded using an SD card and it offers plenty of camera modes for improving the look of your photos.
RRP: £99.99
Our Opinion
In Short: This is a crazily good phone for the price. It looks great, it works really well, and has all the features of a top-end phone for just £100.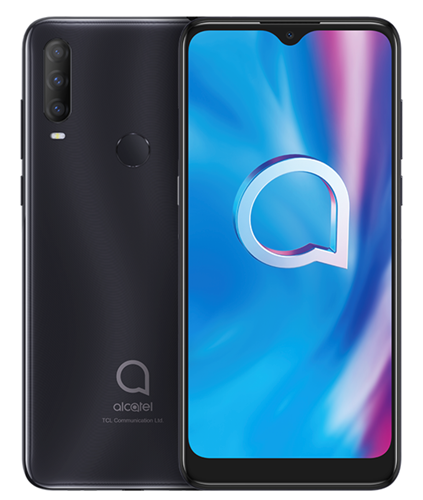 Full Review
We reviewed this phone as it is being marketed as the perfect phone for a tween. Having a tween of our own who was due to get her first phone for her 13th birthday, the timing was perfect.
There are two parts to this review - our daughter Alice's thoughts and our own as parents:
Alice's Review
I have just turned 13 and this is the first phone I have owned, although I have used my parents' iphone and Motorola android phones before. 
The thing I like most about this phone is the big screen, which is bigger than other phones I've tried. I also think it's really cool that you can unlock it with your fingerprint. You can also use face recognition and a passcode to unlock it which is really useful. I really like the way you can re-organise the phone screen to your own taste and preferences, and can access the weather, time and daily temperature easily from the home screen.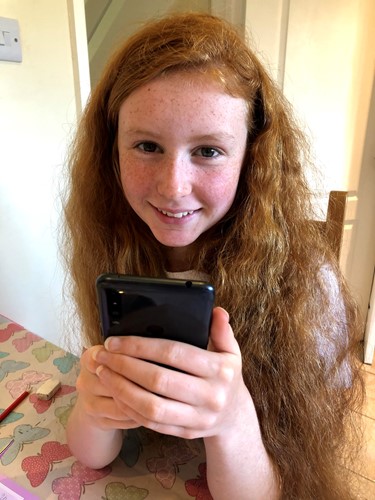 To start with I found the phone a bit tricky to navigate, as it was different to what I was used to, but I think I have worked it all out well now. It mostly responds very quickly to my touch and everything loads quickly, and new apps open quickly when I move between them. There is a very wide selection of apps that you can download which is also great! 
The camera has really good picture quality, if you move it around it follows immediately and doesn't freeze, and it can even recognise familiar items and name them. The quality of video calls is also very good. From the camera, by clicking on the 'more' button you can access all sorts of functions such as time lapse, panoramas, and emoji where you can change your face to different animals and they move the same as your face.
The google assistant that comes with the phone is great as it is fun to chat to, and is always there to answer my questions. I really like the fact you can access it quickly by pressing on the button on the side of the phone. 
I also like all the emojis that come with this phone, they are the same as on other phones but look slightly different. I like the version of 'what's app' app on this phone as it can do lots of cool things.
The memory the phone comes with is quite good, but you can put an SD memory card in it to increase the memory if you want to.
I think this is a really good phone for someone my age as it does everything I'd like it to do, and I would definitely recommend it! And it is really good for how much it costs!
Parent Review
What's not to love? This is a great looking phone that works exceptionally well for a low price tag. Yes, it's a fantastic phone for your tween... but it's a great phone for adults too.
I write this review now after the Alacatel 1S has been in use daily in our house for nearly 2 months. We wanted to give it long enough for any snags or poor quality to show themselves... and I'm happy to say we don't have one bad thing to report. For £100, it's an absolute bargain.
As mentioned, the phone looks great - the screen is a large 6.22 inch display which reaches to the edges of the device. The HD definition gives all the clarity you need, and the device itself is very responsive.
The camera is top-notch too - the 3-lens set up gives great quality photos (13MP) and videos too.
The 32GB memory has coped with our daughter's exhaustive use of the camera, and we haven't needed to spring for an SD card yet to expand the memory. Though no doubt that day will come!
As a parent giving their child their first phone, we've discovered Google's Family Link app, which is amazing. Not officially part of the review of the Alcatel 1S, as it would presumably be available on all Android phones, but worth a mention as it is a fantastic way to keep track of how much your child is using their phone, set limits on phone usage and much more. Well worth checking out! 
Finally - you can find plenty of phone cases for the Alcatel 1S 2020, coming in various styles. Though we haven't bought one yet, we will soon - and with prices typically at about £6.99 for a case, there's nothing to be concerned about from a pricing point of view.