Read More Reviews
Review: Mokee Mini Pod, worth £69.95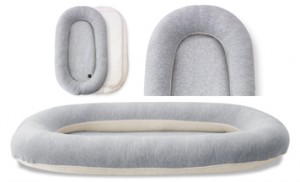 Mokee Mini Pod Review by VIP Club Member Siobhan Merchant
Product information
Mokee Mini Pod is perfect for babies up to six months old. Our Mini Pod, in grey melange.. Easy wash material made from cotton and filled with hypoallergenic silicone balls, meaning it's also great for babies who suffer from allergies. Bottom material made from jersey fabric and filled with hypoallergenic silicone ball sewed which means it's great for babies that suffer with allergies. Cover is easy to remove and wash. the Mini Pod has special features which help in your little one's development; it's perfect for tummy time and post-natal skill progression.  
Review
The Mokee Mini Pod was a very pleasant surprise size wise, suiting babies up to the age of 6 months which was fantastic as our 4 month old is quite tall for her age. The grey colours suit any home decor or style of nursery.
The mattress inside the was soft yet firm and was easily lifted out. You can clean everything but the foam mattress itself, which is ideal for something that your little one uses regularly. There is a ring barrier around the mattress, which is to keep your baby safe from rolling, this is also quite firm but soft. We felt very safe having our little girl laying in the pod in the middle of our own bed whilst we pottered about our daily things.
The product is recommend not just for keeping your precious little bundle safe, but for tummy time as well. Our girl loved this and it has helped to build her strength so much. As the pod is firmer than some of the tummy time pillow toys you can buy, it has helped her so much in her confidence at this part of play. The pod is not recommended for leaving your baby to sleep in overnight, so we let her have small naps in the pod whilst we were next to her (getting our small chance of reading a book for ourselves that didn't involve any rhyming!)
She was quite comfortable and content and I am sure she would have actually happily slept all night in it! But the safety guides on the Mokkee site are there for a reason and should be read. All in all, the Mokee Mini Pod is a fantastic piece to add to your home for your baby. You can move it from room to room easily. It's a simple design that is easy to clean in case of any mishaps. And it helps us parents to simply put away the clean washing whilst baby lays happily inside the pod, safe and sound for them , sparing few minutes you need to keep yourself sane with housework.
I highly recommend it as does my husband who wishes they would do an adult size pod just for him!
Available to buy here.