Read More Reviews
Review: Mini Tractor Ted Wooden Toy, worth £4.99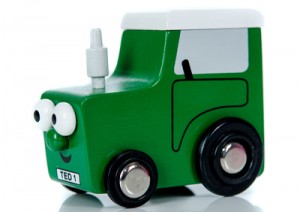 Review written by 
Toddle About VIP Club
 member, Sarah Whitby.
We were very happy to hear that we had been chosen to do a review on the Mini Tractor Ted Wooden Toy and my little girl Chloe loves her new toy, as soon as we received the package and opened it she knew what it was.
The colour of the tractor is lovely and bright and it is very well made. Even though it is a small item she found it easy to handle. It has already had a lot of use in the short time that we have had it and it has taken a few knocks along the way but it is still in very good condition.
She has loved incorporating it in with her other toys and making games up with it and she loves to put her small paw patrol figures in it and they all get to have a ride in the tractor. One of the things that I like about it is the fact that it is a solid wooden toy, it doesn't feel as cheap like some of the plastic versions do. 
She has now said that she wants more of the products to go with it so I'm going to say that's a positive.
Overall I feel this is a very good item that easily works together with other toys.
Purchase from:
www.tractorted.co.uk