Read More Reviews
REVIEW: Love Keep Create Standard Keepsake Animal, from £25

Review written by Toddle About VIP Club Member, Jess McLish. Introduction: I was delighted when I was asked to review the Love Keep Keepsake Animal. I had heard about the product from a friend and also seen it online. The product: I have a bag of baby grows which my little girl has grown out of, and I sorted through them to choose four special ones. I chose her first baby grow which she wore in hospital, and then three of her tiny baby babygrows which she wore in the first weeks. I posted them to LoveKeepCreate Ltd in a Jiffy bag. 
Browsing the website it was difficult to decide on an animal! They are all so cute! We opted for a Monkey but it was a tough decision! The website has a lot of photos of each animal, in different colours and angles, so that gave me a really good idea of what it would look like. https://lovekeepcreate.co.uk/3-keepsake-animals   For the embroidery I chose my little girls full name and date of birth, so it would be a lovely keepsake for her. Up to 45 characters were allowed.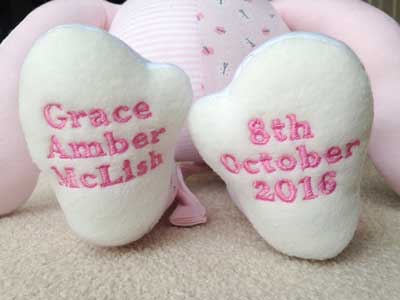 Results: I was expecting it to take up to 6 weeks for the animal to be made, so I was delighted to receive it just 1 week after I posted the baby grows! The quality of the animal is excellent, it's obvious it has been carefully made. I am really happy with how the baby grows have been used in the different areas on the animal, I can tell it was thought about before it was made. The embroidery is very clear and high quality. The animal came in a high quality gift box with a window, which will keep it clean but allows it to be displayed. Conclusion: Delighted! Lovely website, great service, super quick turnaround, extremely high quality item. Perfect for a christening gift, first birthday present, or (like me) "just because"! I will definitely be recommending to all my mummy friends!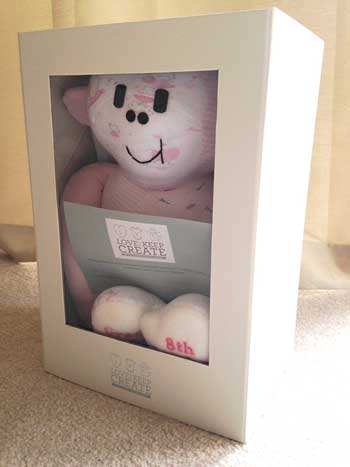 Purchase at: https://lovekeepcreate.co.uk/3-keepsake-animals - Monkey is £45.