Read More Reviews
REVIEW: Lift-the-Flap and Colour Books: Forest & African Animals, £5.99 each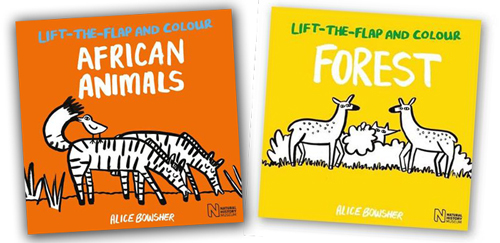 Review written by 
Toddle About VIP Club
 member, Caroline Temple. We were excited to get two lift the flap and colour books, as it's a concept I've not come across before. I've got an 18 month old (Jacob) and a 4 year old (Ben), these books are aimed at 2 years plus, so it was a challenge to keep Jacob away from them as we were colouring, as he loves lift the flap books! As these books are story books that we were potentially going to be reading in the future, I wanted to make sure that they looked half decent, so I helped Ben more than I usually would! The upside of this was that I enjoyed the colouring too. We are big natural history fans in this house, so I had high hopes as these books are published in association with the Natural History Museum.
The illustrations have thick black lines, making it easier to stay within the lines
.  The pictures in the African book are much better for colouring than the Forest one. The Forest one is too detailed, in that there are so many small leaves it gets a bit boring!
As far as durability goes, the pages are very thick and strong
(sustaining a tug of war between my two kids). We used felt tips to colour and there was no sign of the colour showing trough on the back of the pages. The words are very simple and there isn't really a story, although the rhyming text flowed well. I would say that the text is more suited to younger children than a four year old.
The dimensions are smaller than a standard colouring book, making then easier to take out and about
(e.g. getting a few minutes peace in a coffee shop!). At the end of the day, these are fancy colouring books, so with an RRP of £5.99 each, maybe these are better as a gift rather than your everyday colouring books, but overall, Ben enjoyed these, so I would recommend them.

Purchase here: 
https://www.waterstones.com/