Read More Reviews
Review: LeapFrog Smart Sizzling BBQ Grill, worth £49.99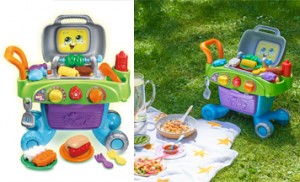 Leapfrog BBQ Review by VIP Club Member Lucy O'Connor
Product information
The Smart Sizzling BBQ Grill inspires hours of interactive play. The colourful toy features accessories for cooking, a light-up grill and eight pieces of food, including an aubergine and steak through to prawns, mushrooms and even peppers! Great for playtime and learning, the LeapFrog Smart Sizzling BBQ Grill will teach children from 2-5 years food names, numbers & colours! With its own Australian accent, little ones will love the interactive pretend skewer, hearing fun cooking sounds, setting different grilling temperatures or simply dancing along to the music and sing-along songs.
Review
The Leapfrog BBQ Grill was very quick and simple to assemble with just a few bits clicking into place, and with the extra bonus of batteries already included! It was a bit smaller than I imagined, not that this is a negative as it doesn't take up too much room (especially with all the other toys we end up gathering around the house!)
My 2 year old was instantly interested in the BBQ and all the accessories that were included, such as the food, plates, ketchup, kitchen utensils etc. It is one of the toys that gets played with every day, there are lots of different sounds/noises to keep them occupied, I don't think we have discovered all the different sounds yet as I seem to hear something different every day!
The BBQ is a great way to learn about foods, colours and numbers, as once the food is clipped onto the skewer, it will tell you what you have put on. There is also a handy little oven storage compartment to put all the accessories in at the end of the day.
Although the recommended age for the BBQ is 2+, my 10-month-old enjoyed pressing the buttons and pushing it around with the handle as it has nice bright colours and chunky food bits that appealed to him.
The BBQ is good quality as my 2-year-old thinks it's fun to pull off the grill lid, but it just clips back on into place with no plastic snapping! It is good value for money and an all-round great toy I would definitely recommend it.
Available to buy from Smyths Toys.